Bulldogs nab season-opening win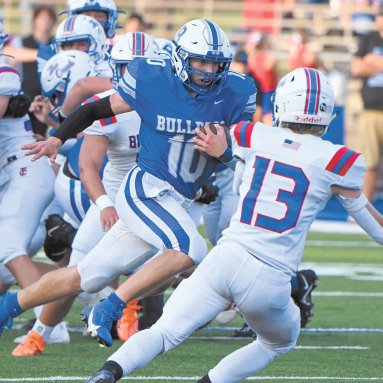 PHOTO COURTESY OF RICH FOWLER
Batesville football flashed its potent high-scoring offense on Friday night, scoring 21 points in each half as part of an impressive 42-28 win at home over Indian Creek.
The week one tilt was a rematch of last year's Class 3A Sectional 31 semifinal that saw Batesville steal a 35-34 win over the Braves. Indian Creek had won the season-opener by a 37-25 final score in 2022.
Batesville's defense got plenty of rest in-between its two forced turnovers as the offense marched all over the field throughout the evening. The Bulldogs broke free of an early 7-7 tie and led 21-7 at halftime after two touchdowns in the second quarter and the pair of scores would ultimately prove to be the difference for the night. Indian Creek (0-1) would go on to score 21 points in the second half, but was equally matched on the scoreboard by the blue and white.
Indian Creek's two early touchdowns in the fourth quarter made the Braves a late game threat but Batesville closed the night out strong, answering with 14 points of its own to solidify a big win on opening night.
A mix of the run and pass allowed Batesville 377 yards of total offense on Friday night. Gage Pohlman was strong at the tailback position, gathering 178 rushing yards on 25 carries while quarterback Will Jaisle scampered for 35 yards and two scores on eight carries. Alex Krekeler and Deacon Hamilton combined for 15 carries and rushed for 43 yards and 25 yards respectively.
Jaisle also threw two touchdowns and 92 yards on 6-of-11 passing. Cade Kaiser caught both receptions in the endzone and finished with four catches for 66 yards. Sophomore Brady Wonnell was a perfect 7-for-7 on extra point attempts. Individual defensive statistics for Batesville were not provided by time of print.
From a team standpoint, Batesville's defense allowed just two total rushing yards against Indian Creek. The Braves best offense came from the pass game where quarterback Jalen Sauer was 13-of-20 passing for 177 yards with four touchdowns and two interceptions. His top target was Bobby Emberton who caught six passes for 102 yards and two scores.
Batesville (1-0) is home again on Friday night, hosting Milan in the annual Ripley County Bell Game. The Bulldogs have won the last three matchups against the Indians.