Bulldogs Semi-State bound, five individuals advance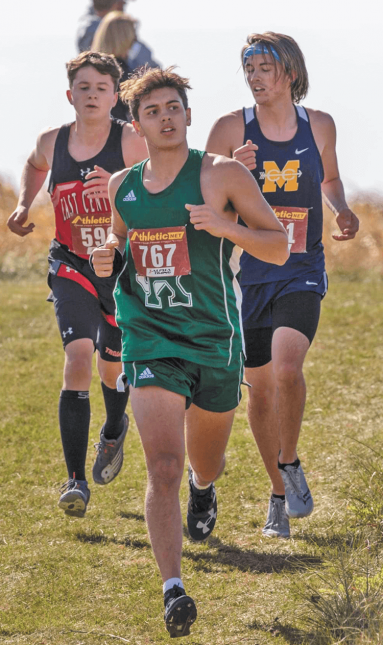 Photo by David Zigan
Batesville placed in the top five in both the boys and girls meets to punch their ticket to the semi-state meet and five local runners advance after successful runs at the IHSAA Cross Country Regional held at Franklin High School this past Saturday.

Batesville's best finish came in the girls meet as the Bulldogs placed second in the regional meet with 65 points, just six points shy of regional champion Center Grove who won with 59 points. Franklin finished third with 70 points with Whiteland and Indian Creek rounding out the five semi-state team qualifiers with 92 points and 148 points respectively.

The Lady Bulldogs put their top five runners in the top 20 including Ava Hanson who was fourth overall in the meet in a time of 19:17.60. Maria Lopez was 15th in 20:02.20, Sophie Myers was 16th in 20:02.90 and Megan Allgeier ran 18th in 20:11.60. Lily Pinckley was 20th at 20:15.90. Batesville was rounded out by Madison Rahschulte in 20:31.90 and Trysta Vierling in a time of 21:21.30.

South Ripley competed in the girls regional meet and finished ninth with 221 points. Lanie Nicholson led the team and earned a berth in the semi-state as an individual qualifier, finishing 17th overall and fifth among individual semi-state qualifiers in a time of 20:09.50. Deborah Murphy was 40th in 21:15.40 and Emily Campbell ran 60th in 22:26.30. Other Lady Raider finishers included Kara Young in 24:51.30, Ava Ralston in 25:15.30 and Lucie Nicholson in 31:07.40.

Jac-Cen-Del did not compete as a team but had four individuals in the meet as Cloey Simon punched her ticket to the semi-state, placing 37th overall in 21:08.60. Kayla Simon ran in 22:34.90, Lauryn Dilk finished at 23:24.20 and Kaytlin Sizemore placed in a time of 24:01.10. Also competing in the meet were Milan's Lucy Lillis 22:21.90 and Renee Lillis in 23:01.50.

On the boys side, Batesville ran third and advanced to the semi-state with 83 points. Center Grove won the regional with 28 points and Whiteland finished runner-up at 61 points. The top five was rounded out by Greenwood with 106 points and Franklin with 110 points.

Batesville ran three runners inside the top 10 overall as Ean Loichinger led the way with a third place finish in a time of 16:40.20. Ben Moster finished ninth in 17:08.70 and Adam Hollowell was 10th in 17:10.10. The Bulldogs top five was rounded out by Eli Loichinger in 36th at 18:00.80 and Daren Smith at 18:01. Will Nuhring ran in 18:14.40 and Nathan Villani came across in 18:23.40.

Oldenburg Academy ran as a team in the boys meet and finished ninth with 234 points. Tyler Kuntz was a semi-state individual qualifier, finishing the regional 15th overall in a time of 17:25.60. Carson Wolber finished 59th in 18:39.50 and Carter Walsman was 60th in 18:39.60. Other Twister finishers included: Lleyton Knecht, 19:58.40; Peter Heile, 20:43.70; Noah Schenk, 23:35.60; Jonah Short, 28:06.60.

Milan and Jac-Cen-Del each ran two individuals in the regional with each school having one runner qualify for the semi-state. Milan's Ben Riehle qualified with a 16th place finish at 17:25.70 and teammate Ayden Potts ran in 19:51.50. Jac-Cen-Del's semi-state qualifier was Josh Pohle who ran 21st overall in a time of 17:30.90 and Damon Hughes finished the regional in 18:39.90.

South Ripley ran three runners who finished their season at the regional. Blake Volz led the Raiders in a time of 18:58.70 while Hayden Hooten ran in 19:50 and NIck Zigan finished in 20:07.70.

The semi-state championship meet on Saturday will be held at Blue River Park in Shelbyville at 10:30 a.m.