Bulldogs send three to
semi-state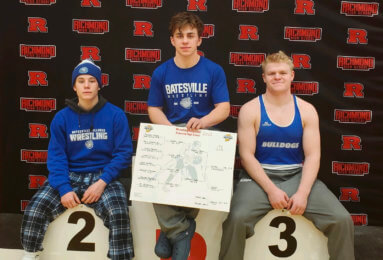 PHOTO COURTESY OF BATESVILLE ATHLETICS
Batesville wrestling took to the mat at the IHSAA Wrestling Regional on Saturday morning in Richmond and made sure its season continued as three grapplers punched their ticket to this week's semi-state round.

Five wrestlers total represented Batesville at the regional with three advancing to the next round including individual regional champion Josh Mobley. Mobley, a senior, became the school's first individual regional winner since 2015 as he went 3-0 in the 170-pound class to win the title. His victories included a pin over Tri's Connor Wayman, a 5-2 semifinal win over Jarred Barrett of Connersville and a 4-3 overtime victory in the championship against East Central's Brayden Huber.

Alex Murphy punched his semi-state ticket in the 120-pound class after he defeated Richmond's Gavin McFarland and Angel Deloney of Shenandoah before finishing regional runner-up to Jesus Aquino-Morales of Union County. Chase Hamilton competed in the 195-pound class and advanced after a third place finish. He won his opening round match over Jonny Snyder of Centerville, fell in the semifinals to eventual champion Ryan Bovard of East Central and won his third place match over South Dearborn's Andrew Kemper by a 3-2 decision.

David Maher and Damien Dance competed for Batesville but fell in opening round matches.

Milan's lone representative in the regional was freshman Kaleb Wilburn in the 138-pound class. Wilburn fell in the opening round to Gavin Sherwood of Cambridge City Lincoln via pinfall.

East Central won the regional championship with 175 points and Centerville was runner-up with 112 points. Batesville scored 49 points and was seventh while Milan finished 18th.

The IHSAA Wrestling Semi-State will be hosted by New Castle this Saturday and begin at 8 a.m.