Bulldogs, SR win invite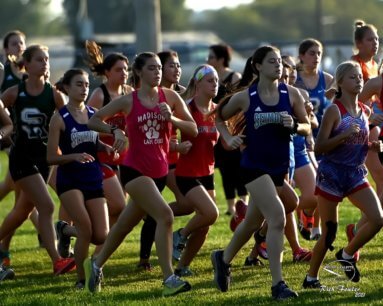 RICH FOWLER PHOTO
Batesville's girls and boys teams alongside South Ripley's boys and girls teams picked up cross country championships as part of the Batesville Invitational on Tuesday evening.

The Lady Bulldogs won the girls large school division of the race with 27 points, besting runner-up East Central by three points. Rushville was third with 82 points while Seymour was fourth at 112 points. Franklin County, Lawrenceburg and Madison all competed but were unable to field a team score.

Batesville had four top 10 finishers including three spots in the top five. Senior Lily Pinckley was the individual runner-up in a time of 20:24.40 while Ava Hanson was third in 20:27.20. Maria Lopez was fourth at 20:30.80 and Megan Allgeier ran seventh in 21:20.20. Other Lady Bulldog runners included Madison Rahschulte in 22:48.90, Katie Olsen in 23:45.60 and Ella Moster in 25:23.30.

South Ripley was crowned the winner of the small school division with 23 points and Jac-Cen-Del was runner-up at 41 points. North Decatur sat third at 61 points while Milan and Oldenburg Academy competed but were unable to field full teams.

The Lady Raiders were first, second and third individually with Lanie Nicholson winning the race in a time of 20:14.40 and Emily Campbell finishing runner-up at 21:58.50. Deborah Murphy was third in 22:36.20 while Shelby Bastin and Kara Young rounded out the top 10 in times of 24:38.60 and 26:06.30 respectively. Elizabeth McKittrick was the final South Ripley runner, finishing in a time of 29:16.

Cloey Simon and Kayla Simon, both of Jac-Cen-Del, ran fifth and sixth respectively in times of 23:39.30 and 24:25.20. Viriginia Minch, a freshman, was eighth in 24:34.50. The Lady Eagles were rounded out by Allison Peetz in 27:49.50, Shelby Reatherford in 28:14.40, Kinsey Rohls in 31:03.50 and Aliyah Karshner in 32:48.30.

Milan's top finisher was Renee Lillis in seventh place in 24:30.70 and Sarah Lillis ran in a time of 27:39.20. Emma Jutsi ran in 38:20.40. Oldenburg's lone runner was Amelia Crawford who ran in a time of 33:29.60.

Boys racing saw Batesville win the boys large school division with 30 points and East Central finished second with 59 points. Seymour's 64 points was good enough for third place while the top five was rounded out by Rusvhille's 87 points and Franklin County's 132 points. Lawrenceburg was sixth with an identical 132 points but placed sixth on a tiebreaker.

Five Bulldog runners finished inside the top 10 including Ben Moster who was the individual winner in a time of 16:29.30. Ean Loichinger was runner-up at 16:39.90 while Daren Smith was eighth in 18:00.50, Kyler Daulton was ninth in 18:13.90 and Jake Chapman was 10th in 18:16.90. The rest of the Batesville roster included Will Nuhring in a time of 19:53.80 and Ben Adams in 21:10.80.

South Ripley bested Jac-Cen-Del to win the boys small school division. The Raiders won with 24 points while the Eagles were second with 36 points and North Decatur was third with 63 points. Milan and Oldenburg Academy competed but did not field complete teams.

Milan's Ben Riehle was the individual winner in small school action, running in a time of 18:00.40 while Ayden Potts was third in 18:55.60. Nathan Voss's time of 21:50.90 and Ethan Dehamer's time of 21:54.10 rounded out the Indian roster.

South Ripley put together an impressive pack time for a second-straight meet and saw four runners in the top 10. Freshman Luke Bradley ran fifth in 19:59.30 while Logan Bradley was sixth in 20:08.60 and Hayden Hooten ran seventh at 20:11. Evan Eaglin placed 10th in a time of 20:39.40. Other Raider runners were Ryan Gorrell in 22:03.30 and Cameron Stewart in 25:34.70.

Josh Pohle of Jac-Cen-Del was the runner-up of the meet in 18:39 while Adam Maloney was an eighth place finisher in 20:27.10 and Kameron Darnold was ninth in 20:35.70. Cameron Reatherford's time of 21:01.80 was good enough for 12th place and the Eagles were finished out by Austin Rohls in 22:36.10, Gabriel Maloney in 24:21 and Jacob Ricke in 25:02.40.

Oldenburg had two runners in the event with Carter Walsman finishing fourth overall in 19:19.20 and Santiago Schutte running in 22:16.20.

The Twisters run on Saturday, October 9 at South Dearborn while Batesville runs at the Greensburg Invitational today. Jac-Cen-Del hosts South Ripley and Milan on Saturday as part of the Ohio River Valley Conference Championship meet.