B'ville girls win, snap 6-game skid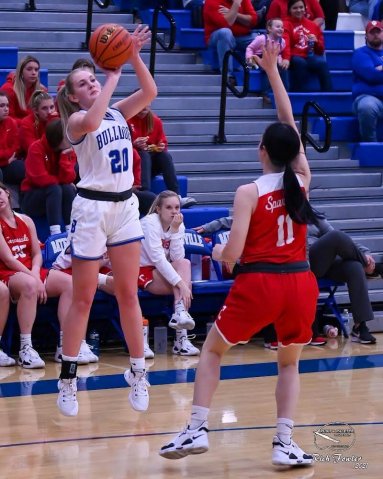 PHOTO BY RICH FOWLER
Five of seven losses for Batesville girls basketball have been by less than 10 points but Saturday afternoon saw the Lady Bulldogs grab a lead and finally hold on for a win, defeating Shelbyville 41-32 at home.

Batesville had lost six games straight prior to the victory. The team's only other win had been a 45-31 victory at home against New Castle on November 6.

Defense propelled the Lady Bulldogs to an early 12-4 lead but Shelbyville's response was a 7-2 run to cut the deficit to three points at halftime. Batesville appeared to be in the driver's seat again after the third quarter with a 10-4 spurt but the Lady Bears had a little scare in store in the game's final minutes.

A major surge would knot the game at 26-26 but a resilient and battle-tested Batesville team kept a level head and finished out the game with a 15-5 run that sealed a much-needed victory.

"This was a good and needed win for the ladies," Batesville head coach Bryan Helvie said. "The girls stayed focused even as Shelbyville made a couple runs. I was very happy with everyone's contributions. This was definitely a team win."

Emma Weiler led Batesville with 10 points and Carley Pride scored six of her eight points in the fourth quarter. All 10 of Weiler's points came in the second half. All six of Sophie Gessell's points were credited to the hot start in the first quarter.

Shelbyville (5-4) was led by Kylee Edwards with 16 points.

Batesville (2-7) is at Lawrenceburg tonight for an Eastern Indiana Athletic Conference showdown.
SATURDAY'S GIRLS BASKETBALL GAME
at Batesville
BATESVILLE 41, SHELBYVILLE 32
SV- 4 7 4 17 – 32
BV – 12 2 10 17 – 41
SHELBYVILLE (5-4) – Kylee Edwards 16, Ava Wilson 9, Madison Bassett 6, Madison Phares 1, Abigail Brenner 0, Ellie Simpson 0, Ella Johnson 0.
BATESVILLE (2-7) – Emma Weiler 10, Carley Pride 8, Sophie Gessell 6, Sarah Ripperger 5, Bre Wells 5, Alyson Peters 5, Calley Kaiser 2, Gabby Elston 0, Annie Negovetich 0.
3-Point Goals – SV 3 (Bassett 2, Edwards 1), BV 3 (Gessell 2, Pride 1). Total Fouls – SV 10, BV 10. Free Throws – SV 7-12, BV 10-18. Fouled Out – None.