Candidates given time to speak at debate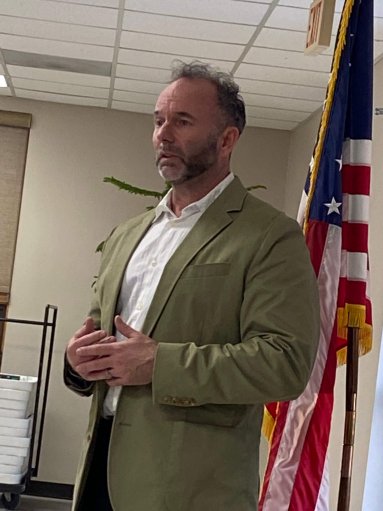 WANDA ENGLISH BURNETT PHOTO
Republican candidates running for offices in the Primary Election had the opportunity to be heard Monday night at a debate held by the Republican Women's Club.

A much larger than usual crowd gathered at the Osgood Town Hall where several candidates who have opposition in the spring were able to express their views with State Representative Randy Frye being the moderator.

Rep. Frye asked that the candidates be "polite and respectful" and the evening began with those in attendance hearing from candidates running for Indiana House District 55: John Moton, Curtis Ward and Dr. David Welsh.

Each candidate introduced themselves and chose a question. Moton was first and noted he was a common sense, pro-life, second amendment candidate. "I am always for the parents to be involved in their child's schooling, and against unlawful mandates."

Question #1: "How would you feel if they once again attempt to abolish Township Board Members. This would mean that the Trustee and County Council would make all decisions on how Township funds are spent. Do you feel that this is something County Council needs to be involved in or not?"

Moton said, "I do not support ending of township trustees board members." He said he felt the roll and responsibilities do not go away and they are needed to help with poverty relief and cemetery upkeep decisions.

Ward said he values life and as the father of three children under the age of six, is concerned about the place children will grow up in. "My pure intent is to make rural Indiana better." He agreed with Moton about the township trustee question and said they play an important role and know the families in the area.

Dr. Welsh said he has been on the campaign trail and has been listening to the people. He has heard many concerns about public safety, first responders, parents about their children's education, businesspeople, and farmers. "I want this area to be the 'go to' place to raise kids, have a business, or retire," he said. He feels the structure should remain in tact for the townships with the emphasis on everyone working together.

All three candidates were in support of the recently signed House Bill 1296 concerning the constitutional carry law.

Question #3: "If the country is hit with another COVID crisis, what would you like to see done differently from the past two years? On the local, state and federal levels."
Moton said he will always stand against unlawful mandates. "The government's role is to provide information, not force people to do something they don't want to do. Protecting freedom is the first job."

Ward said, "We saw excessive government mandates." He outlined one of his businesses that failed during this time and felt it was due to the overreach of government.
Dr. Welsh, who was the Ripley County Health Officer during COVID, noted that when people are able to make decisions, they can figure things out. He believes the more transparent, the better. He said everyone has to work together, which the state and local agencies did. However, the federal level was another matter. "We have to be able to say 'we were wrong or we don't know.'"

Sheriff Candidates:
Rob Bradley is running for sheriff bringing a myriad of experience that ranges from working as a jailer to being interim sheriff for a short period of time. "I came up through the ranks and think I'm the best candidate for the job. I will rely on my experience." He said he has worked for six different sheriffs and will take from them what he felt was good for the position. He has also served in the military.

Kurt Enneking noted, "I love law enforcement." He said he has drawn from his experience as a business owner while working in the sheriff's department. He got a taste of law enforcement from being an investigator in the Ripley County Prosecutor's Office and then went to work for Sheriff Jeff Cumberworth as his Chief Deputy eight years ago. Although he secured a degree from Purdue in Horticulture and is a licensed landscape architect, he said law enforcement is his passion.

When asked, "What changes do you see needed for the Sheriff's Office?" Bradley said he feels more training is needed, along with upgrades at the jail. He said he would promote (hire) from within the department and try to alleviate the high turnover of jail staff.

Enneking said "Our morale is at a high level and rather than change anything, I would like to make some additions." He said training for the officers when they respond to mental health calls is important and better pay for the jailers, as well as more training.

They were asked how involved they would be in supporting the Republican Party on the local and state level, or "will we not see you until the next election?"

"I intend to be very involved in the community – very visible," Bradley noted. He said he would do anything requested of him (within reason) from the Republican Party.
Enneking also agreed he would support the Republican Party and continue to attend meetings/events when possible.

Assessor Candidates:
Richard Block introduced himself saying he graduated from West Point, flew Black Hawks and served his country on several deployments. He said he has worked for Amazon and headed the fight to defeat the fire territory (Versailles) that was trying to be implemented to help with costs for local firefighters.

Shawna Bushhorn noted she has 29 years experience serving the community through working in public offices with 19 of those years as the County Assessor. "I've seen a lot of changes along the way," she noted.

When asked about the duties of the Assessor, Block said he felt there was a problem in the assessor's office and would like to see more oversight there. Bushhorn said the duties entail more than people realize. She noted the importance of doing the job correctly saying the process can and will stop the county budget if not done to specifications. "That has never happened while I've been there," she said. She talked about the need to produce the assessed value for real and personal property and verify sales.

The questions, "Do you have the qualifications that are required by Local & Government Finance? If not, when do you plan on taking such courses to be certified?" Block said he would have from the Primary Election until the first of the year and was sure with his business sense it would be no problem to secure the needed qualifications.
Bushhorn said she does have the required Level 1, Level 2, and Level 3 certifications.
County Council District 4 Candidates:
Richard Stevens and David Tebbing will be on the ballot in the Primary Election. Both are local residents with Stevens saying he wants to help change things with the county's budget. Tebbing said he has served on the fire department 20 years, owns a small business and "definitely wants to be there to make a difference."

"Given your current knowledge of County Government, where would you cut if the county had a revenue shortfall?" Stevens said he would look at the budgets and support what is needed. Tebbing said "We hate to cut EMS, but need to get it back in line."

The evening ended with Prosecutor Ric Hertel speaking to the crowd. He is running unopposed in the Primary. He said he's been doing this for the past 23 years and isn't ready to "hang it up" by any means. "The fire still burns," he said adding that the collaborative effort between his office and local law enforcement is great now. He said he appreciates the support of legislators and has worked with Rep. Randy Frye on issues. "My true love is spending time in the court room."

With only a couple minutes or less to reply to some questions, some of the candidates may not have said everything they would have otherwise. They were also only given a short time to introduce themselves. If you want to learn more about a specific candidate, call them – and ask questions. Make sure you're voting for what you feel is the best candidate to make a difference where you live and for the future needs of the county.

Early voting will begin April 5 at 8 a.m. in the Election Room of the Ripley County Courthouse Annex, second floor.