Career Center holds second graduation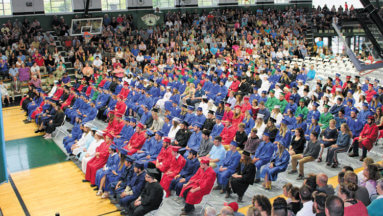 MELINDA STARKEY PHOTOS
Students from the Southeastern Career Center (SCC) began filing in the Tyson Activity Center, formerly the Tyson Auditorium, in Versailles last Thursday evening, May 16. This was the second year for a formal graduation for the career students, who have a jump on life after attending SCC for two years.
The auditorium was full, with the floor showcasing the various schools that were represented at the event.
Principal Tracy Bear welcomed the crowd, with student speaker Emma Cutter, also giving a speech. She graduated from cosmetology. Many others were represented as Jim Cole, student services coordinator, presented awards to both juniors and seniors. Brice Keeton from the Law Enforcement class also spoke at the graduation.
From Advanced Culinary Arts and pre-food services to Welding Technology, students received awards and accolades from the school along with dual credits for college. Many scholarships were given, and students were honored for various co-op opportunities they have taken during their time at SCC.
Guest speaker for the evening was John Webber, CEO of Pro-Prints in Batesville. He told about how the career center had impacted his life saying it laid the foundation for him to grow several businesses.
Superintendent Derek Marshall walked to the podium receiving a loud applause from the students. He has been a "steady" in their lives and they showed their appreciation. The last three words to the class of 2019 from the superintendent were "I love you". He told them to always remember what they have learned in class and out of class and to hold onto what is good.
The thunderstorm that passed through the area that evening was no match for what was taking place inside. These students were excited and ready to walk proud and knowledgeable into their next endeavor. Many have certificates that can put them to work immediately following graduation. Others will follow the college path, bringing a good head start with them. Others will join the military and serve our country. These students have learned what a career can look like and are ready to pursue theirs with the training they have received from the Southeastern Career Center.