Chamber announces new executive director, annual awards dinner meeting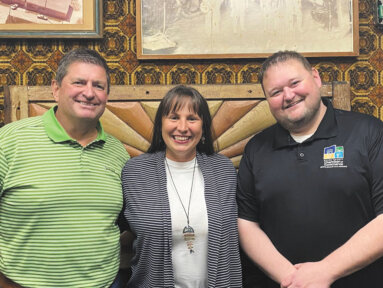 WANDA ENGLISH BURNETT PHOTO
Music, fun and great food will kick off the Ripley County Chamber of Commerce 2022 Annual Dinner and awards Ceremony on Thursday, October 27.
The highlight of the evening will be awards to: Cheryll Obendorf, Citizen of the Year; Chris and Tara Kelly, Business Persons of the Year; and Brenda Schwering, Educator of the Year. These people have exhibited outstanding leadership in the county and will be honored at the annual meeting. You will learn about what they have contributed and continue to give back to their community.

Forget Me Knot will be decorating the Hog Rock Event Center (formerly known as the St. Florian) in Osgood, for the "JukeBox Hero" themed night. If you like music, you're sure to enjoy the musical themed evening by Show Stopper Talent Agency.

The doors will open at 5 p.m. for music, appetizers, cash bar, silent auction and networking. This is the time for your business to shine. You will be able to talk with many local businesses and share hints, tips, and ways to make your business even better.

If you haven't already purchased your tickets for this event, now is the time to do so. The deadline for getting in on the fun is this Thursday, October 20. Send request for tickets for $30 each to Ripley County Chamber, P.O. Box 576, Versailles, IN 47042 or call 812-689-6654.

Brandi Merkel of Napoleon was introduced at the October meeting as the new executive director for the Chamber. She replaces Lora Parks, who resigned to take another position.

Merkel says she is excited to be with the Chamber and looks forward to meeting the business people and helping them to network with others. She is a self-starter and goal-oriented person who has been a Tupperware Director since 2011.

She is a graduate of Ivy Tech and also works as a health aide/athletic assistance at Jac-Cen-Del School. Merkel says she enjoys the outdoors and vacationing whenever she gets the opportunity.

Come to the annual event, meet Brandi, network with business friends and enjoy a fun night.