Chamber honors Craig Distributing Company as Business of the Year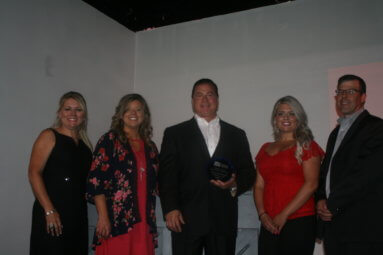 WANDA ENGLISH BURNETT PHOTO
Having the first event since COVID-19 shut many things down, the Ripley County Chamber of Commerce had a good turnout at the 23rd Annual Business Recognition Luncheon held at the Upper Room Cafe in Osgood last week.
Craig Distributing Company was honored as the Business of the Year and is located in Dearborn County. The original group in 1945 was founded by George Dietrich, Stanley Schwanholt, Ralph Bennett, William Backman and Lawrence Heideman. The founders started the business by becoming one of the first wholesalers to distribute Wiedemann, Bavarian, Red Top, Ertels 92, Burger and the Anheuser-Busch line of products.

The company evolved with Southeastern Beverages, Inc. purchasing the Ohio Valley Beverage in 1989. On January 25, 1999 Richard D. Craig was hired as Executive Vice President/SuccessorManager. He soon became co-owner and through a series of successions finally became the sole owner of the business in 2010. On January 3, 2011, Southeastern Beverages Inc. officially and legally became Craig Distributing Co., Inc.

In November of 2005, the company moved into their new state of the art facility at 7675 Kerrisand Drive in Aurora. The facility was designed by Anheuser-Busch facility planning and was built by Maxwell Construction Company. Steven Hoffmeier was approved as General/Successor Manager in 2009 and remains with the company, along with Craig's son, Andrew and daughter, Kayla.

"We are committed to customer satisfaction, providing excellent service and products, with open and honest communication to all concerned," noted Craig at the luncheon. He went on to say, "We maintain the highest level of integrity, pride and dedication to our tradition of excellence."

Craig told those gathered at the luncheon that the greatest assets of the company were not in attendance. "They are the drivers, delivery people," he noted. He said the company is growing and changing at a fast pace. "We appreciate you as our consumers and distributors," he said.

The Chamber continued to grow throughout 2020 with 27 new businesses joining, according to Lora Parks, new executive director. She, along with President Alesha Neal, welcomed the businesses to the Chamber. Five of those were able to be in attendance at the event: Caring Hands Insurance Services, Helton Eye Care, Railyard Bar and Grille, The Galley, LLC and Wheelock Lake Campground.