Chamber honors Iron Timbers at Luncheon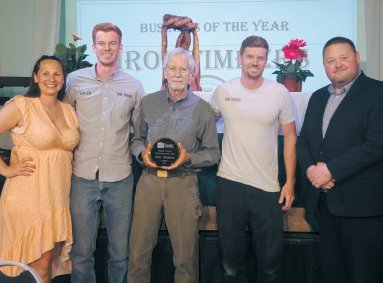 AMY DAVIDSON PHOTO
The Business of the Year recognition at the Ripley County Chamber of Commerce's 25th Annual Business Recognition Luncheon held at The Upper Room Café in Osgood. The business is family operated with Father, Gary, and two sons, Dustin and Caleb, working together.

They were celebrated at the Luncheon, along with new businesses that are now members of the Chamber.

Iron Timbers has a unique story: "The Payne Family bloodline has historically been a blend of builders and entrepreneurs, even dating back to when their family first crossed the pond to come to America. That theme hasn't changed throughout the years. "

It was noted that Gary had instilled in his sons a true work ethic. Both Dustin (took building trades) and Caleb (took welding technology) attended the Southeastern Career Center in Versailles, where their dad was the first-year building trades instructor.

In 2014, Gary retired from a 30-year teaching career. He took some time to relax and enjoy working on carvings in his woodshop he built at his home.

In 2016, the three Payne men were doing their own thing – Gary in his own shop creating religious wood carvings and items for the grandchildren; Dustin, getting ready for his wedding and building some furniture for himself and his bride-to-be, Katie, and Caleb was creating artistic metal sculptures in his own pole barn. "This all was a perfect storm for what was about to happen next," Brandi Merkel, Chamber Executive Director shared at the Luncheon event.

Finding out there was a big market for custom tables, brothers joined forces to create one-of-a-kind pieces. Gary was also in on the initial trip to the wood mill and gave his input about how a carving could possibly top things off. They believe this conversation in the Napoleon State Bank parking lot was the beginning of Iron Timbers.

The brothers kept their day jobs but would come home with the excitement of working on the next Iron Timbers project with their dad. Then, in 2017, Gary was diagnosed with Acute Myeloid Leukemia. While it was a fierce battle, Gary's faith and family sustained him. When his sons would visit at the hospital, the trio would talk "shop". They were discussing new projects, or ones in the works and soon Gary would be declared cancer free.

The three entered art shows and won, taking Best of Show in some cases. They knew they had a niche market and ultimately built up a reliable customer base the old-fashioned way by hitting the pavement. In the fall of 2018, Caleb and Dustin quit their full-time jobs and along with their father, built a new state-of-the-art facility in Osgood, where they continue to work today.

Then in 2019 the business got a big boost. Caleb found a Facebook advertisement for an HGTV show based out of Indianapolis called Good Bones. He sent information and the rest has been aired. Iron Timbers has been featured on several episodes. They have also been on Urban Oasis and Good Bones: Better Yard. They even were featured in their own HGTV commercial that ran on the network for several weeks. They still have a great relationship with Good Bones and are in the process of filming Season 8 episodes.

The exposure to the show has helped their business grow and draws a lot of people to Osgood, where Iron Timbers has a complete showroom and people are able to purchase custom items or merchandise. They say their success is not only hard work, but attributed to their supportive wives and God, who has truly blessed them.

A good crowd attended the Luncheon event that was presented by the Ripley County Chamber of Commerce Directors and Executive Director. Krueger-Maddux Greenhouses provided beautiful floral arrangements with catering by the Rolling Pin Catering service.

The Chamber is growing and working together with businesses to help them grow, making the county a prosperous place to own and do business.