Change of Venue filed in Knudson case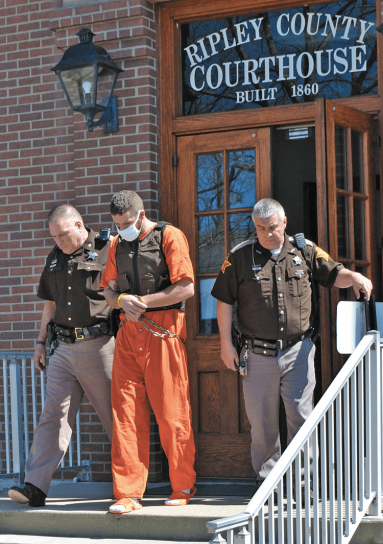 TALI CROWE PHOTO
A Verified Motion for Change of Venue was filed in Ripley County Circuit Court on April 16 in the case of State of Indiana vs. Jordan M. Knudson.

The motion was filed by the defendant and his attorney, Ross Thomas, asking for the murder trial against Knudson to be taken out of Ripley County.

Court paperwork reads, "The Defendant is unable to receive a fair trial in Ripley County, Indiana, because of public hostility against the Defendant and public outrage over the alleged offense as well as extensive, prejudicial news reporting of Mr. Knudson's arrest and his alleged role in the offense."

It went on to name several newspapers that carried the story of the murder charge that Knudson is accused of, including The Versailles Republican. It also said that each of the local news outlets distributed information regarding the case on their websites, Facebook pages, Twitter feeds and/or other social media outlets.

Included in the list of medias covering the case were television and radio news reports from various agencies.

"Many of these stories have been highly prejudicial to the Defendant in that they contain inflammatory material including speculative opinions put forward by the prosecuting attorney and law enforcement officials regarding the case, speculation as to the possible motive of the Defendant and statements attributed to potential witnesses in the case that may not be admissible at trial," the document reads.

The motion goes on to say the defendant is guaranteed the right to a fair and impartial jury trial.

Knudson is incarcerated in the Ripley County Jail on Murder charges after he was charged with killing Kristina Jones, 36, who was at a Holton residence on the night she lost her life January 10, 2021. The case was investigated by the Indiana State Police.

A $2M cash bond was set for Knudson after he appeared in Ripley County Circuit Court on March 29. A jury trial was set for September 14. Thomas told The Versailles Republican at that time that a potential change of venue was being looked at due to the publicity surrounding the case.

Editor's Note: As in all criminal cases, the defendant is presumed innocent until proven guilty in a court of law.