Child airlifted from multi-vehicle crash on 421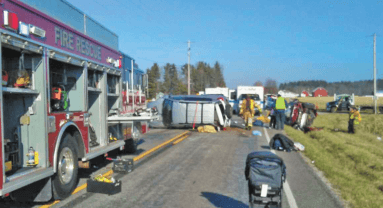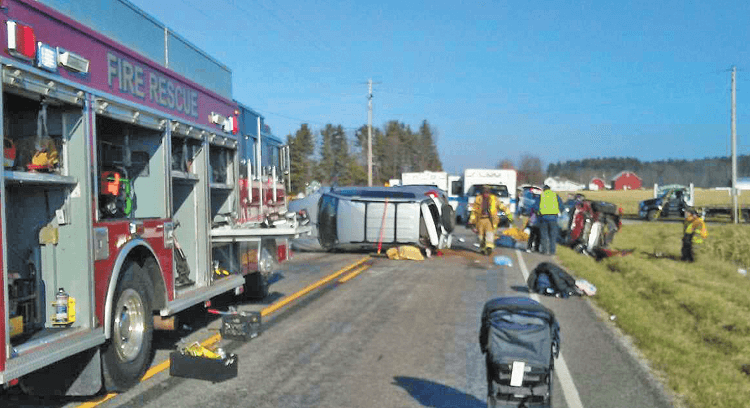 VERSAILLES FIRE AND RESCUE PHOTO
A crash that involved three vehicles on Saturday, November, 28, involved several people and a load of cattle.

According to information from Lt. Randy Holt of the Ripley County Sheriff's Office, the crash occurred about 9:50 a.m. on US 421 and CR 150 N. He said Riley Motenko, 21, of Indianapolis, was traveling southbound on US 421 when for unknown reasons she collided with a livestock trailer being pulled by a 2004 Ford pickup and operated by Harry J. Simmons, 90, of North Vernon. Neither Simmons nor his passenger was injured in the crash. The cattle he was transporting were not injured.

Simmons had pulled out of County Road 150 N onto US 421, when Motenko collided with the trailer. She then tried to swerve to miss the trailer but went into the northbound lane in front of a 2017 maroon Nissan Murano being driven by Ronald D. Griffin, 66, of Bennington. Both Griffin and his passenger had to be extricated from their vehicle with Mr. Griffin being transported to the hospital by ambulance.

There were two children in the Motenko vehicle, an 11-month old, who was not injured, and Motenko's five-year-old son who had to be airlifted to Children's Hospital in Cincinnati, by Kentucky 11 medical helicopter. Police say the child was suffering from a broken leg.

Assisting Lt. Holt at the scene were other officers from the sheriff's office, Versailles Fire and Rescue, Ripley County Medic and Ripley County EMS.