Child nearly loses life, arm from dog attack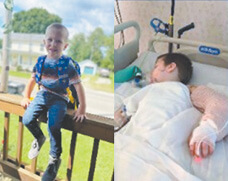 Submitted Photo
Xavier Carr was a happy, healthy three-year old busy enjoying life when tragedy struck. On March 2, the little child was viciously attacked by a dog and only the quick thinking of his parents saved his life.

Joshua and Christine Carr of Bennington are living the nightmare with their son in ICU at Children's Hospital in Cincinnati since that day as they watch him go through a myriad of medical procedures and know there are many more to come to save his left arm.
Xavier was supposed to have a skin graft on March 14, but his dad said due to an infection, that wasn't possible.

His mom, Christine, described Xavier as very active – a boy who loved to dance, sing, and play with his one-year-old sister, Everleigh. "He is an animal lover, very outgoing, smart, strong, brave…" at this she broke down and cried, knowing she will also need some of those attributes to get through this trying time. He loves dinosaurs, cars, building blocks, puzzles and more. Anything that requires hands-on and thinking skills, Xavier is in!

Joshua agreed saying his son will not just need a "village" going forward but will need an entire nation behind him. "His entire life is altered because of this," he told The Versailles Republican. He has gone through numerous surgeries already and is looking at many more into the future.

Joshua and Christine both work at Rising Star Casino, Joshua as a table games dealer and Christine with food service. The couple are trying to stager their shifts to split time to be with their daughter at home, and son in Cincinnati. They have a long road to go.
Some friends have gathered to hold a Benefit Ride for Xavier to travel that road with the Carr family. The event is set for Saturday, April 1 at the Ripley County Fairgrounds Park years, the Benefit Ride will feature two-wheelers (motorcycles) and four-wheelers (jeeps and any other type vehicle). "There will be two separate rides," she told The Versailles Republican. Registration will be from 9 a.m. to 11 a.m. The rides will be approximately two hours long starting and finishing at the fairgrounds location in Osgood.

Flyers have been circulating saying that the goal of the benefit is to help Xavier and his family gain the support they need to lead him through his recovery period without having to worry about medical expenses. They are also wanting to help the family with travel and food expenses at this time since they are on the road a lot between their jobs and children.

A dinner and raffles will be held upon riders arriving back at the fairgrounds park on Saturday at Building 1.
If you can't be present for the ride or dinner and still want to help this young family, you can email XavierCarrStrong3@gmail.com or Cashapp: $XavierStrongCarr 3.

The heartbreaking tragedy is felt by a family including Christine's grandparents, Daniel and Mildred Hall of Bennington, along with Joshua's grandmother, Patricia Miller of Vevay, and many others. Please show this family love at this crucial time in their lives. Xavier will reach his fourth birthday later this month in the hospital, and probably not remember it.