Coach Smith wins 400th Lady Eagles are sectional champs again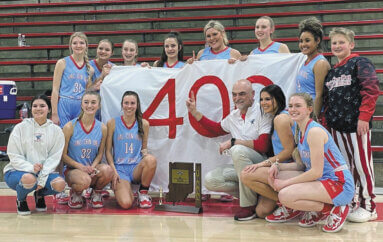 PHOTOS COURTESY OF JCD SPORTS
It was a very unique setup for Jac-Cen-Del girls basketball heading into sectional week. Not only did the Lady Eagles need three victories to reclaim their standing as champion but the trio of victories was also needed by head coach Scott Smith to give him a monumental 400 total wins for his coaching career.

And without a single flinch, all involved accomplished both feats. Using a pair of advantages in the second and third quarters, Jac-Cen-Del delivered Smith his 400th victory and in the meantime captured the Class A Sectional 60 Championship, defeating South Decatur 43-34 on Saturday night at Southwestern (Shelby).
For Class A No. 13 Jac-Cen-Del it was its 26th title in program history and the first since 2020. The Lady Eagles have now captured an unprecedented 17 sectional titles under Coach Smith who became the 26th coach in Indiana high school girls basketball history to reach the 400 win mark. He is 11th among all active head coaches in career wins as his overall record stands at 400-144. The .735 winning percentage ranks him eighth among active coaches.

Facing a South Decatur team that is headed up by a former Smith standout at Jac-Cen-Del in Kristen Hicks, the Lady Eagles were tested early by a Lady Cougar team that entered with some late season momentum. That was evident by an 8-8 tie at the end of the first quarter but the second quarter ultimately proved pivotal and that was followed by a third quarter that allowed for even more wiggle room.

Jac-Cen-Del's response to the tie was a 15-7 run in the second frame, led by Julia Meyer who erupted for 11 points in the period after being held to only two points in the first quarter. The 23-15 halftime lead went to double figures in the third quarter as Olivia Neal hit for five points and it would be that duo of Meyer and Neal would seal the deal for the Lady Eagles in the final stanza.

As South Decatur (9-15) got into a bit of a groove with 12 points in the fourth quarter, it was Jac-Cen-Del's scoring tandem that never allowed a legitimate threat by the Lady Cougars. Meyer would score eight points -six points from the free throw line- and Neal canned a big 3-pointer in order to preserve a championship for a Lady Eagle program that is once again atop the Sectional 60 field.

Meyer finished leading all scorers with 23 points which included a stellar 10-of-11 performance from the free throw line and Neal added 12 points in the win. Such production negated the fact that Jac-Cen-Del had only two other players score in the game. Kelsey Borgman finished with six points and Kaylin Hinners added two points.

South Decatur got 12 points from leading scorer Kiley Best and Makayla Somers followed with eight points. Paige McQueen and Molly Eden scored six points apiece.
Jac-Cen-Del (15-11) returns to Southwestern on Saturday for the Class A Regional Championship at 1 p.m in search of the program's first regional title since 2016, the same year that Coach Smith and company won the state championship. The Lady Eagles play Bethesda Christian (12-13) who knocked off Indiana Math and Science 61-20 in the Class A Sectional 58 Championship.