Come have fun – Take the plunge!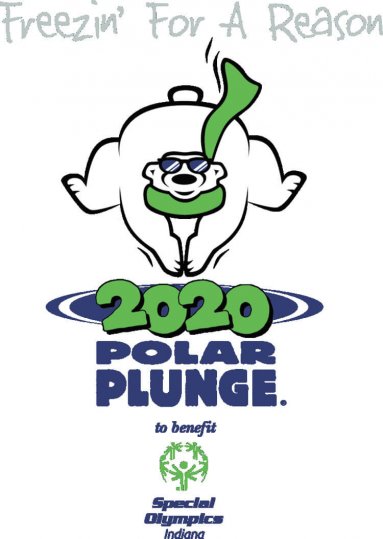 SUBMITTED PHOTO
If the weather forecasters are accurate, along with Punxsutawney Phil not seeing his shadow, we should be in for some decent weather in February and end up having an early spring. That could boost the attendance at the annual Polar Plunge and After Splash Bash at the Versailles State Park on Saturday, February 15.

The Polar Plunge is the signature Special Olympics Indiana fundraiser. Snow, ice, or sleet doesn't stop the plungers from jumping into the frigid waters, all for the Special Olympic athletes in our community. All proceeds raised from this event will help to train the athletes locally and to compete at the state, national, and international levels in a number of Olympic-type sports.

Registration for the event at the park will be from 10 a.m. for the Polar Climb; 11 a.m. for the Polar Climb 5K Run/3K Walk; 11:30 a.m. to 1:30 p.m. for the Polar Plunge. There are other activities that also take place on Feb. 15. They include the costume contest at 1:30 p.m.; and the awards/sponsor recognition at 3:00 p.m. If you register by February 8 the fee is $25. After that day it will be $30.

There are many areas to participate. Awards will be give for the best costume, most money raised by an individual, most money raised by a team, Cool School Challenge and the Public Safety Challenge.

The coveted Cool School trophy, Tundra, a large stuffed traveling Polar Bear, will be awarded to the school that raises the most money overall.

There's something you can do even if you don't want to take the plunge. Under a heated festival tent, Ripley County Lions Clubs' food court will be set up and the Polar Plunge Coffee House has some great items. There will be lots of family fun, including face painting, carnival games and more.

You can even be a virtual plunger! You can sign up to be part of the virtual plunger program by going to www.soindiana-rod.org/polarplunge for more information on how to stay in your cozy little home and plunge with everyone else.

Why is being involved so important?

Special Olympics Indiana is a not-for-profit 501c3 organization that provides year-round sports training and athletic competition in more than 20 Olympic-type sports for children and adults with intellectual disabilities. This reaches nearly 14,000 athletes across the state. Special Olympics is also part of the international network of accredited Special Olympics Programs that reaches more than 4M athletes with intellectual disabilities worldwide. Special Olympics Indiana receives no federal or state appropriated funds, is not a United Way Agency and relies entirely on corporate, civic and individual donations, according to information from the local group.

The goal is to empower people with intellectual disabilities to realize their full potential and develop their skills through year-round sports training and competition. As a result, Special Olympics athletes become fulfilled and productive members of their families and the communities in which they live.

According to the World Health Organization, approximately 170 million people, or three percent of the world's population, have intellectual disabilities- the largest disability population in the world. Intellectual disability knows no boundaries. It cuts across the lines of racial, ethnic, educational, social and economic backgrounds, and it can occur in any family.

Local program coordinator Greg Townsend has been with the program for many years that covers Ripley, Ohio, and Dearborn counties. They provide year-round sports training and athletic competition in many different areas, reaching approximately 256 children and adults with intellectual disabilities. The delegation is managed by a group of volunteers who give time to a program they believe in. The delegation receives no funds from Special Olympics.

For more information call 812-582-6861 or visit www.soindiana-rod.org.