Come join the fiesta at Hassmer House Tavern & Inn on 2-22-22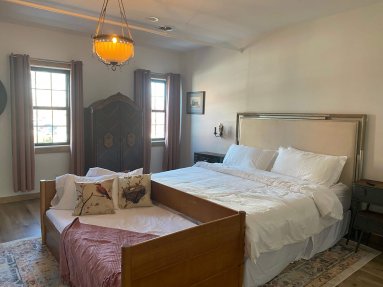 WANDA ENGLISH BURNETT PHOTO
A grand fiesta is being planned to celebrate the opening of the Inn, at the Hassmer House Tavern & Inn, located on the square (103 W. Tyson Street) in Versailles. Mark your calendar for Tuesday, February 22, (2/22/22) when the Grand Opening will take place, immediately following a ribbon cutting ceremony by the Ripley County Chamber of Commerce, at 4:45 p.m.

The Inn is the second phase of the complete renovation of the building, since it was purchased by Rachael and David VanArtsdalen just over a year ago. The tavern, which opened December 13th, features locally sourced farm-to-table ingredients and scratch made recipes, sourced from local farmers and purveyors.

The restaurant features hand-crafted cocktails, Indiana craft beer and local Indiana wine.

The Inn features a nostalgic style suite, complete with a kitchenette, laundry room and a pink bathroom with a reclaimed claw-foot bathtub. It's like taking a step back in time, when things were quieter and simpler, but now with all of the modern amenities you love.

The building dates back to 1830 when it was known as The Hassmer Hotel, but now has a modern twist that incorporates the past and looks to the future.
The Inn will have room service available, add-on packages, a complimentary local breakfast and local coffee from Emily's Brew.
Everyone who dines in on 2-22-22, will have the opportunity to be entered into a chance to win a free night's stay, along with $50.00 off any room service package. The grand opening fiesta will feature street Tacos and scratch margaritas. The VanArtsdalens invite the public to help them celebrate their achievement with the doors opening at 5:00 p.m, Immediately after the ribbon cutting.

From a year ago to now, it has been a whirlwind of activity as they worked to give the building a much needed facelift. Since opening the restaurant, the feedback has been "very positive" with great reviews and many repeat customers.

"We've been so engulfed in the rehab project," Rachael noted, with David adding, "We've barely had a chance to breathe." The couple compliments each other, and their style shows in the finished product of the restaurant and inn. Both are from big cities and say they fell in love with the small town vibe and are looking forward to serving the community and being a part of its success.