Come join the fun at the Ripley County 4-H Fair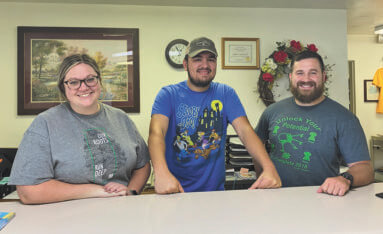 WANDA ENGLISH BURNETT PHOTO
The Ripley County Fairgrounds Park in Osgood might seem quiet this week, but there is a stir in the air as plans are being finalized for the 2022 4-H Fair, which begins Sunday, July 17.

On Tuesday, mowing was being done, additional bleachers were brought in to add seating for grandstand events and the extension office was buzzing as paperwork was being churned for the event.

Settling into his second year as the 4-H HHS Extension Educator, Miles Payne noted that everything is coming along nicely, but it is a busy time. There are some new faces in the office and with summer assistants, the group clicks along with Dave Osborne as the director.

All the favorite things will be back with grandstand showcasing something new– Supreme Wrestling Presents – Live Pro Wrestling. This will be held Tuesday, July 19 with the doors open at 7:00 p.m. and bell time at 7:30 p.m. Other grandstand events include Full Throttle Monster Trucks on Monday (765-238-8012); Mower Races on Wednesday; Quad & Cycle Flat Drags on Thursday; Truck Drags on Friday, sponsored by the Osgood VFD (812-614-7609); and Truck & Tractor Pull on Saturday also by the Osgood VFD.

The Ripley County Community Foundation has partnered with Newport Aquarium to bring sharks and stingrays to the Fair. There will be two opportunities, Thursday, July 21 and Friday, July 22, each day from 1 p.m. to 3 p.m. The WAVE Foundation will be there to show and talk about sharks and stingrays.

According to Clarice Patterson, director of Genesis: Pathways to Success, sharks are awesome and tend to get a lot of attention in the media. Something, it's just not the attention they want. The WAVE Foundation is working to change the perception and will be bringing live Coral Cat Sharks. Stingrays are closely related to sharks but of course have a very different body shape. The programs offered will show the difference and similarities and children of all ages will get to understand a little more about these creatures.
The park continues to have upgrades with new LED lighting in some barns this year. "I implore everyone to come and check out the 4-H fair," noted Payne. "These kids put their heart and souls in this," he continued, inviting the public to come out to see all of the projects, whether it be the animals, aerospace, arts and crafts or the tractor operating contest, wildlife and wood science – and everything in between.
There is a large variety of projects kids have poured over the past year getting ready for the big show day. "Just come and hang out and check out their projects," Payne noted.

The Ripley County Extension staff noted, "Fair week is a special time for the Ripley County community. We all share in our love of food, rides, projects, animals, and the development of our 4-H youth." They give praise to the people behind the scenes which includes the Ripley County 4-H Corporation Board, 4-H adult volunteers, Fun Time Carnival, and the extension office staff. If you have suggestions or something you would like to see to improve the fair experience you can send a message to Payne at mepayne@purdue.edu.

Sunday will be the official kick-off of the Fair with Grand Opening and presentation of the corporation board members at 6:00 p.m. at the free stage. Following that, the announcement of Miss Ripley County and her Court along with the crowning of the 4-H King and Queen will be held.
It's all about those beautiful babies on Monday night at the free stage area. The Ripley County Baby Contest will be held at 5:00 p.m. where you may begin to register at 4:30 p.m. An entry fee of $5.00 will be charged (same as the last several years) for one baby. Per contest rules each child must be dressed in a white t-shirt/onesie. Must be a Ripley County resident and bring parent Photo ID. Come register by the free stage where the contest will be held.

Rides on the midway are always exciting. This year $20.00 Wristband nights are offered on Monday, Wednesday and Saturday. The rides are open from 6-10 p.m. nightly.

The 2022 Ripley County 4-H Livestock Auction will be held on Friday, July 22 at 3 p.m. in the Livestock Show Arena. The sale order is: dairy, beef, rabbit, swine, poultry, sheep, dairy goat, meat goat, horse and pony. Employees of Ripley Publishing Co., Inc., publishers of the Osgood Journal and The Versailles Republican and On-the-Go! will be on hand to give 4-H'ers a discount price on thank you ads for the paper where the livestock winners will be showcased as well.

Don't forget all your favorite food booths at the Fair and especially those who have a local connection. The local stands are putting the proceeds back into our community.

There is truly something for everyone at the 4-H Fair. Come on out, have fun, and support local youth.