Commissioners hear about noise complaint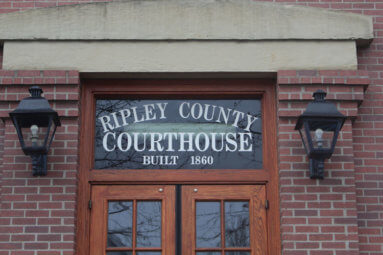 The Ripley County Commissioners met on July 13. Local taxpayer Janet Glasman attended the meeting to discuss a noise ordinance. Glasman stated the noise on the property next to her started about May this year. The neighbors are riding 4-wheelers, playing music loudly, and yelling. Commissioner Mark Horstman suggested Glasman speak to the property owner rather than the renters. Attorney John Ertel suggested filing a complaint with Tad Brinson, Area and Planning. Sheriff Jeff Cumberworth acknowledged that he had been out to the house for a complaint.
Barry Lauber, Ketih Mathews, and Kendall Hankins attended the meeting representing REMC. Lauber spoke to the commissioners regarding high-speed fiber internet. REMC is requesting approval to apply for grants to put in fiber internet and want a tax exemption once the job is going on. They are looking for a lifelong tax exemption on personal property. Attorney John Ertel is going to look into the ordinance for the lifelong tax exemption and prepare the paperwork.
The commissioners heard from Craig Herbert, Maintenance. Herbert brought in two quotes for the generator maintenance at the annex, Versailles EMS, Delaware EMS and Milan EMS. The quotes were from GenSet, LLC for $1,804.73 and Hoosier Power, LLC for $2,395.00. Commissioners approved GenSet.
Shawna Bushhorn, assessor, informed the commissioners that she has a contract with Tyler Technologies and would like to cancel that contract and go with Lexur Appraisal Services to provide assessing services. The commissioners approved.
Kevin Krekeler of Assured Partners attended the meeting to request permission to bid the insurance for the county workers comp, auto, and liability. The commissioners will advertise and get closed bids for the insurance, which will be due November 2 at 10:00 a.m.
Scott Huffman, EMS stated they have both appraisals for the Delaware EMS. The commissioners gave Huffman the approval to sell the property. The asking price is $138,900 for the property located at 3231 E. CR 500 N., Osgood.
Commissioners meet every other Monday, with the next meeting being held on August 10.