Confirmed tornado hit local resident in Osgood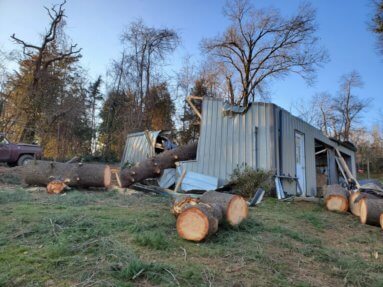 AMY DAVIDSON PHOTO
The Imel residence on St. Rd. 350 near Osgood, was one of many devastated after being hit by the tornado that occurred early Monday morning, March 7.

The Imels lost their garage, trees, partial roof of their home and some belongings in the storm. The homeowner told the Osgood Journal, "We were terrified. The wind was so bad as lightening struck outside, we could see the trees bending sideways and coming towards the house. We had windows broken along with losing our garage and found our kids' trampoline about 500 yards in the woods. We lost over 10 trees too. It is just unbelievable!"

Everyone was unharmed in the home, but the family is still burning the debris of all the broken limbs and having to cut down trees still as of Wednesday last week.

AS many others were affected, it was determined to be a tornado by the report given by the Ripley County EMA. It was stated to be an EFO Tornado. The damage specific to the tornado itself was confined to roughly right around U.S. 421 near Jac-Cen-Del Community Schools and extended northeast and then east dissipating just north of State Road 350 and west of Finks Road. There were several areas which sustained straight line wind damage of similar wind magnitude outside this path.

Jac-Cen-Del had roof damage at the school as well as damage to light objects and also toppling a light pole in the athletic fields north of the school. Buses that were parked at the school also had damage caused by the debris of the storm.

Further east, the tornado traveled just north of State Road 350, where additional trees were either uprooted or snapped. Snapped trees resulted in substantial damage to an outbuilding in the 700 block of West State Road 350.

While additional damage of similar strength was observed along West Fairground Road, as well as other locations to the north and east of Osgood, this damage was attributed to wind damage from the line of strong storms that swept through the area at the same time of the tornado.

This survey was completed with significant assistance in the form of photos and video provided by Jac-Cen-Del Community Schools, Osgood Volunteer Fire Department and Ripley County EMA. The NWS is very grateful to these partners for the valuable information and coordination.

This information is preliminary and subject to change pending final review of the event and publication in NWS Storm Data.

Residents are encouraged to sign up for CodeRed. You can visit https://public.codered-web.com/CNE/en-US/BF02337A1E04.
You can also text RIPLEYCOALERTS TO 99411 to receive a direct link to the enrollment form on your mobile device.