Contestants to compete on July 16- Miss Ripley County Pageant set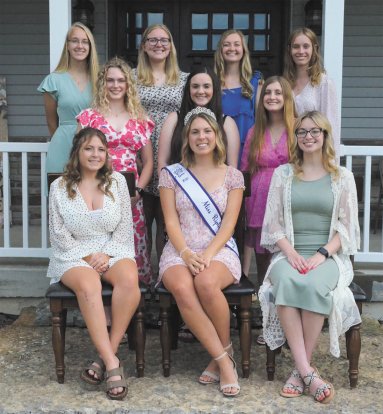 SUBMITTED PHOTO
In a world where you can be anything, Be Kind. That's the unofficial theme of the 2023 Miss Ripley County Pageant. "We really don't have a theme this year, but we are just promoting kindness," Amanda Kunz, Pageant Chair, told the Osgood Journal.
The Miss Ripley County Committee will capitalize on the "kindness" theme and will be awarding $250 for the Kompassion Scholarship in memory of Kristy Sams. Throughout the process, committee members will see the girls in action and then decide on the award.
Of course, other awards will be a $750 scholarship for the Queen; $150 for 1st Runner Up; and $100 for the second through fourth runners-up, along with Miss Congeniality. The People's Choice award will go to the girl who collects the most paper money in the lobby of the Damm Theatre where the pageant is held.
Money collected from the People's Choice award will be used to purchase safety equipment to donate for foster kids homes such as baby gates, door and window alarms, smoke detectors, and CO2 monitors. "Those are the things most needed right now," Kunz noted.
Ten girls are hoping to claim the Miss Ripley County title or at least place on the court for 2023. They include:
Chloe Hunter, senior at Milan High School, is the daughter of Tim and Julie Hunter. Her sponsor is Rus-Sar Farms.
Deborah Murphy, junior at Saint Mary of the Woods College, is the daughter of Robert and Michelle Murphy. Her sponsor is Emily's Brew.
Machaela Cobler, sophomore at Purdue University, is the daughter of Chad and Kelli Cobler. Her sponsor is Ballstown Stables, Jason and Sarah Young.
Shelley Hoffrogge, senior at Milan High School, is the daughter of Don and Diane Hoffroggee. Her sponsor is Wayne's Meats.
MacKenzie Sparks, sophomore at Jac-Cen-Del High School, is the daughter of Lynn McDonald and Eric Sparks. Her sponsors are Comer Buildings, Blake Comer and Osgood Lions Club.
Sophia Sullivan, junior at Jac-Cen-Del High School, is the daughter of Neil and Rachel Sullivan. Her sponsor is Shear Magic and Sharper Image.
Emilee Knueven, senior at Milan High School, is the daughter of Ryan and Amber Knueven. Her sponsor is Clar Point Federal Bank and Trust.
Marissa Eckstein, freshman at Ball State University, is the daughter of Timothy and Crystal Eckstein. Her sponsor is Weideman Heating and Electric, Inc.
Kinsey Rohls, senior at Jac-Cen-Del High School, is the daughter of Mark and Jennifer Rohls. Her sponsor is Mark and Gayle Rohls Farm.
Emily Brunner is a 2023 graduate of South Ripley High School. She is the daughter of Kurtis and Brandi Brunner. Her sponsor is Friendship State Bank.
The Pageant will be held Sunday, July 16 at 6:30 p.m. at the Damm Theatre. Doors will open to the public at 5:30 p.m. At the Pageant, the girls will open with their hometown hero as their escorts and then compete in business wear and formal wear. They will be given a word and must tell what that word means to them. The impromptu question will be eliminated this year.