Convicted killer gets maximum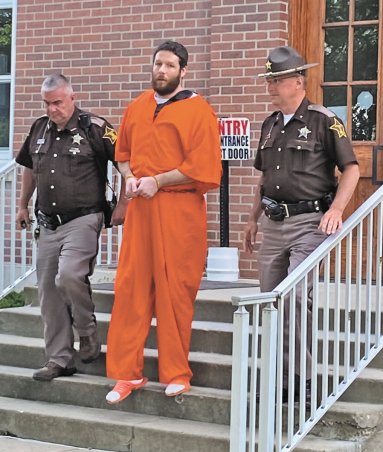 WANDA ENGLISH BURNETT PHOTO
Jordan Knudson, 37, of Holton, was sentenced to 65 years in prison for the vicious killing of Kristina Jones.
Judge Ryan King didn't mess around when he handed down the sentence before a packed courtroom on Tuesday, June 28 in Ripley County Circuit Court. The Judge listed seven aggravating factors that bumped the years up from the presumptive 45 to 65. "The first three aggravating factors would have been enough, but I find seven," he told Knudson.

Judge King said Knudson had disdain for the Courts by his actions, showed signs of premeditation concerning the murder that he carried out under the cover of darkness and freezing temperatures. The vicious shooting of the victim three times in the face and head was brought out, along with how Knudson misled police and sent hateful, mean and evil text messages to Kristina's phone the night she died and before. "You have expressed no remorse and blame the victim," Judge King noted. He further said that Knudson showed no emotion, no statement of remorse, nothing. The impact of the defendant's deeds will be felt by the victim's family for years to come, especially her two children.

Regarding Knudson's parents – Norman and Pina – the judge said he's affected them as well. "It's not up to the Court, it's not about me," he said, adding, "It's about the facts. It's not me, Mr. Knudson, it's you – you're the one who has removed you from your children's lives." This was in response to letters Knudson's family had written hoping to have his sentenced reduced saying he wouldn't be able to see his young children.
The Judge said in many instances the defendants will plead for mercy because they didn't have a good upbringing. "You had a good upbringing," he said to Knudson. There are seven aggravators and no mitigating factors. He said this was disturbing and maybe more so than any case he's seen. When Ross Thomas, defense attorney asked for leniency saying the 65-year sentence was reserved for the "worst of the worst", the Judge said, "It's true. I find you to be the worst of the worst. You're the type deserving of this sentence."

Throughout the Judge's admonishment Knudson sat stoic in his orange Ripley County Jail jumpsuit, shackled, chained and handcuffed showing no emotion. When asked if he wanted to say anything, the defendant said, "No, I'm just going to listen today."

A Victim Impact Statement was read from Kristina's brother, Dustin Asche. The nearly five-page type-written letter revealed even more that Kristina had shared about the life she lived in fear of Knudson. When Kristina's body was bruised and battered, her mother, Ella Meyer, begged her to share what had happened. Kristina finally broke down and told her. The letter read, "she (Kristina) had so many knots on her head, bruises on her eyes and body. Krissy kept telling her (Ella) it was just from the cows at the Knudson family farm but she finally broke down and told her the terrible tales of pain and fear; from being forced to strip down naked and get in a ditch full of water in a thunderstorm where he would push her head underwater until she almost drowned and then he would let her catch her breath just enough to do it again and again. Once she was finally able to make a run for it that night she ran in between lightning strikes to escape him while he shot at her with his 410 across the field. She would lie down in that field and wait for the next opportunity to get up and run to her dad's house…she spent hours in that field that night freezing cold trying to get away…she told tales of being beaten until she was unconscious…getting hit in the head with a shovel and dragged into the woods…being raped repeatedly…having coffee thrown in her face if she brought it to Jordan too hot, watching Jordan beat his dogs with a chain and with his fists…"

"These children of Krissy's and ours deserve as many years of peace as we can give them," the letter continued. "I fear that a minimum sentence will always leave a spark of fear and panic in the back of their minds throughout their young lives, through high school, college and parenthood. They've gone through enough…there will always be an empty chair throughout their lives and an empty place in our lives forever."

The letter continued in part, "From January 11, 2021 thru April 2022 we didn't know any of the details and didn't have any pictures to go along to go along with what happened to her. All we knew that entire time was that she was shot and killed in a bathtub. I (Dustin) prayed for you and your family constantly throughout that time leading up to the trial that you and your family would make this situation as right as you could make it for yourselves, seek forgiveness from God and spare our family from having to relive her death a second time only with more details…I also prayed that maybe, just maybe, the result of my sister's death could turn away the evil in your hear and help you find your way into Jesus' arms someday."

Dustin said but since Knudson wouldn't come clean, the trial brought more pain to their families seeing the victim's mangled face and wondering what went through her mind the night she was murdered. "You may have silenced Krissy while she was alive and during the trial but she has the last say now. Krissy told my father (Al) that you once told Krissy that you could shoot 30 women like her between the eyes and the police wouldn't even knock on your door. Well, Krissy knocked that door down on April 11th and she's knocking it down again today. Her death will not be in vain."

The prosecutorial team felt justice had been served with the sentencing. Prosecutor Ric Hertel asked for the maximum sentence after going through the aggravating factors. A lifetime of probation violations were listed, along with the terrorizing nature and circumstances of the crime. The prosecutor said Knudson misled law enforcement in an attempt to avoid accountability, saying the defendant apparently did not feel rules applied to him.
"The State is not without empathy to the Knudson family," Prosecutor Hertel said. "And, there is much empathy to the family of the victim (Kristina). There is zero empathy to Jordan Knudson," he emphatically noted at the sentence hearing. "It's time to be held accountable for what you did," he said, looking Knudson squarely in the eye, asking for 65 years in prison.

Prosecutor Ric Hertel said, "I want to thank the family of Krissy Jones for their strength, patience and faith in me and the prosecutors who tried this case, Shane Tucker and Rae Luhrsen. The process and journey was difficult with many obstacles in the way."

He continued, "While nothing we could have done will fill the hole left by Krissy's death, it's my hope that the conviction and 65-year sentence will provide a bit of solace in their grief. Along this journey I was able to see up close the pain and toll this took on the family."

Hertel thanked his co-workers by saying, "I want to thank my co-counsel, Shane Tucker and Rae Luhrsen, for their endless efforts in this case, working tirelessly, preparing for trial twice and presenting the evidence to the jury while leaving the rest of their lives on hold. They are tru professionals who earned this conviction. Ripley County is lucky to have them," he concluded.