Corbin White overcomes injury, tragedy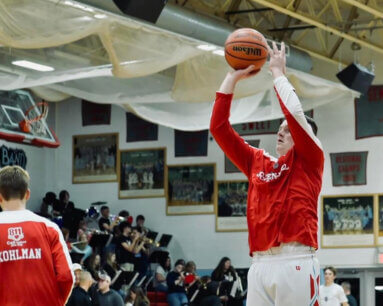 SUBMITTED PHOTO
Jac-Cen-Del senior Corbin White has been through a lot in his lifetime but is living proof it's all how you react to what life throws at you.
According to information from Forte' Orthopedic Research Institute, White is one of four student-athletes recognized with a 2023 Thomas A. Brady, MD Comeback Scholarship Award recently. He will be recognized this Wednesday at an event.

White was nominated for the Brady Comeback Award by athletic department secretary Tarra Ortman, who said White is the "consummate friend and teammate." She noted, "He is the first to step forward when help is needed and the last to walk away from a job finished."

The JCD athlete went through a series of life-changing events beginning with the death of his father, Chad. Many people in the Ripley County area knew Corbin's parents, Chad and Rachel. His father lost his battle to cancer at the age of 47.

Just a little over a year later, the family home was destroyed by fire, leaving him injured. As Corbin was recovering, he was severely hurt and hospitalized after a UTV accident. He then went through painful therapy sessions and was able to join his basketball team on the court months ahead of schedule, according to a press release. He now proudly wears number 54 on his jersey as a tribute to his father.

"Corbin's mental fortitude, along with his unwillingness to allow himself to be defined by injury or tragedy, is an inspiration to us all," said Marty Rosenberg, president of Forte' Orthopedic Research Institute. "It's our honor and privilege to recognize Corbin and his fellow Brady Comeback Award recipients as the incredible student-athletes and positive role models they are. We are looking forward to coming together this month to celebrate their ability to rise above adversity while demonstrating excellence in academics, school and community involvement, and sportsmanship."

The Brady Comeback Awards honor both male and female student-athletes at the collegiate or high school level from Indiana who have distinguished themselves by overcoming adversity or injury and returned and excelled beyond expectations in their respective sports.

Recipients of the 2023 Brady Comeback Awards will each receive a $1,500 scholarship, to be awarded at the 18th annual Brady Sports Achievement Awards, presented by Physicians Rehab Solution and hosted by Forte' Institute. This year's event will take place on April 19 at the Lucas Oil Stadium, with all proceeds supporting Forte' Institute in its mission to lead advances in orthopedic care and sports medicine through research and education to enhance quality of life.

This award is named for Dr. Thomas A. Brady, a founder of Forte' Sports Medicine and Orthopedics, who is recognized as the father of sports medicine in Central Indiana. Brady passed away in 2011 at the age of 95. He developed many innovative techniques for returning athletes to their sports quickly and safely, according to information from the Institute.

This year the other recipients are: Addison Nally of South Bend; Kendal Rider of Lafayette; and Kate York of Elkhart.

Editor's Note: This was first reported on in our paper, The Versailles Republican, on April 6 by Sports Writer Rob Lafary in his Put Me in Coach, column.