County champs meet county champs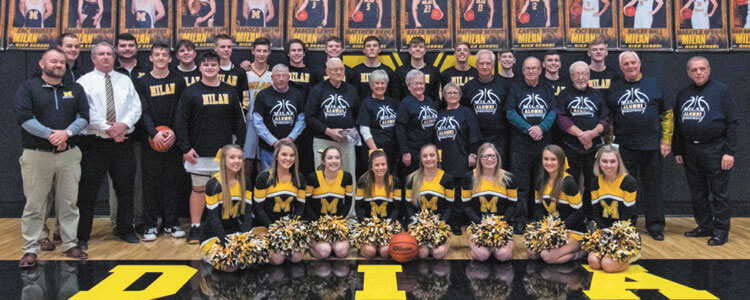 JARED ROGERS PHOTO
Members of the Milan Indians 1960 Ripley County Tournament championship team joined this year's championship team, the first since 1960, at Milan's varsity game on Saturday, February 15. It was Milan's 23rd annual alumni games and recognition with "old guys and young guys" games being played during the day and all alumni in attendance being recognized at halftime of the varsity match.

The 1960 team members stepped forward during the recognition and received a standing ovation from Milan fans. Members in attendance included Indiana Basketball Hall of Fame member, 1954 state champion, and head coach Ray Craft; players Tom Voss, Tim Heller, Dale Richardson, Dick Schwipps, Don Call and Jerry Caplinger; and cheerleaders Kay (Smith) Russell, Polly (Cole) Brewer, and Patty Nickell.

Coach Craft and assistant coach Pete Howard claimed victory in the 1960 Ripley County Tournament by defeating Versailles in the final game by a score of 78-47. That game was played in the Milan High School gymnasium, which was brand new at the time.

"We were very good," Coach Craft remembers of his 1960 crew, adding "We won by a large margin over most teams," in the tournament that year.

After his successful playing career at Milan, where his team was state runners-up in 1953 and state champions in 1954 (he was the leading scorer in the title game), Craft received a partial scholarship and played four years for the legendary coach Tony Hinkle and his Butler Bulldogs.

"Basketball gave me an opportunity to get an education," Craft said. He chose to pursue education as a career, and after coaching at Lapel for one year, Craft returned to Milan, where he coached for four years. Later, he served as principal at Clinton Central and Shelbyville schools and was the assistant commissioner of the IHSAA.