County Council says 'no' to raises for now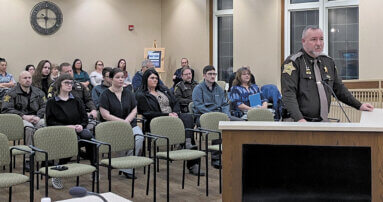 WANDA ENGLISH BURNETT PHOTOS
In a special called meeting of the Ripley County Council there were two issues that were heard Tuesday, January 24.

The meeting was facilitated by Peggy Elhers, councilperson, who shared how the meeting would be conducted, the time allotments and had another councilperson read some of the directive of what the duties of the Council were. Fixing salaries for county employees is one of their duties.

Leah Hildebrand was first up to speak and with some of the 911 dispatchers attending with her, she said they work diligently every day to save lives. She noted that she is losing employees because the county will not pay them enough. "I'm begging you," she said as she told of losing three employees this summer with great experience. She said it is discouraging to put all the training hours into them to lose them to another agency who is willing to pay more.

"Ripley County needs to pay our people more to keep a lawsuit away from your pockets," she emphatically told the Council.

Just before coming to the meeting, 911 dispatchers had been on the phone with a family giving CPR to their loved one who didn't make it. "It's a tough job, but a pleasure and a blessing," Hildebrand shared. "Dispatch is the backbone of the county," she explained saying they service all the police, fire, rescue and more. They are the first line of defense, are proud of what they do, and do it to the best of their ability.

No matter the amount of pleading the Council members said they understood, but couldn't give a 20% pay raise at this time. Ron Decker, president of Council, said he couldn't ever guarantee a certain percentage. Andrew Decker, who is on the raise committee, said they are working toward getting more for the dispatchers, but, now wasn't the time.
Budget time is in August and Council said those agencies should meet with the committee before that.

The second portion of the meeting went similar with Sheriff Rob Bradley splitting his 10-minute allotted time with Chief Deputy Davidson. They explained the competition between surrounding counties who are taking the deputies Ripley County has trained and why not? They are offering them a lot more money.

Law enforcement said they are looking at needing somewhere in the range of a 40% increase to train and retain. The option of officers working overtime was discussed, and that, too, costs the county. It didn't seem a viable option for long. At a previous meeting using unused salary monies of $40,000 for deputies overtime pay was discussed. There seemed to be a misunderstanding on the Council's part about what the sheriff had said. He didn't say the deputies could work all the overtime they wanted, but rather, Chief
Deputy Davidson said they would have to dip into the additional money on hand. That too could become a problem when hiring someone new.

The Council pointed out they have 156 county employees and would have to do something equitable across the board.

Both 911 and the Sheriff's Office noted that while they don't feel more important than anyone else, their jobs do require extensive training and if they aren't there to respond, someone's life could be at stake. "We're the only ones who wear a uniform and carry a gun," Sheriff Bradley pointed out. He also said they were the ones who would step between a person and a bullet – other offices couldn't say that.

When told the Council would be looking into the situation, Hildebrand said in all fairness, she has been asking about raises for her people for five years and always hears the same thing.

Councilmembers asked for any suggestions as to what other places were doing and pledged to work together with both agencies for a solution.