County hit hard with storms, causing flooding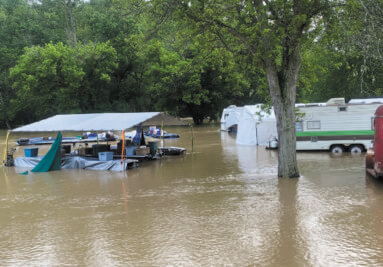 WOODY BUSH PHOTO
Widespread storms caused flooding and damage across the county over the weekend, particularly Friday night into the day on Saturday. Flooding continued to be a problem on Sunday with many roads closed. People were asked to use extreme caution when traveling prompting commissioners to announce a Travel Watch for the county.
From Holton, where people's yards quickly became small ponds, to Friendship where those at the flea market found their stuff quickly consumed by the flood waters, the county felt the effects of the predicted storms.
Firefighters throughout the area were busy with Napoleon alerting the public about the closure of US 421 due to flooding. Decatur County also felt the impact of the storm and saw Osgood firefighters helping in flooded areas when REMC crews needed to fix lines. The City of Batesville was impacted with many areas flooded, along with Milan, whose residents reported damage and destruction to property. Roofs were blown off, buildings destroyed, with much of the damage coming from the torrential rains that brought nearly everyone three plus inches of rain in a short period of time on Saturday.
Some campers at Friendship found themselves in deep water with Scott Stutler and Doug Hudson coming to their rescue with bobcats to help get them to higher ground. The Friendship Fire Department was thanked for their part in helping and allowing the campers to be parked on their property.
Hundreds of customers of both REMC and Duke Energy were without power over the weekend. Many sustained short outages from two to 18 hours, with some only gaining power on Monday morning after the weekend. One Milan resident reported going 46 hours without power, causing some perishables to be lost. The good part was the rains cooled the area for a short time, but humidity crept back in on Sunday making it difficult for those with breathing problems and no electricity.
Crews worked non-stop to restore power with multiple electric companies and others helping residents of Ripley County. Many town employees worked over the weekend, whether it be on water issues, electrical or other due to the storms.
The Mini 4-H event scheduled at the Ripley County Fairgrounds in Osgood for June 19 was canceled as well as an auction (Gehl) being conducted by Roger Huff. Both events were rescheduled for this Saturday, June 26.