County queen places in top 16 at State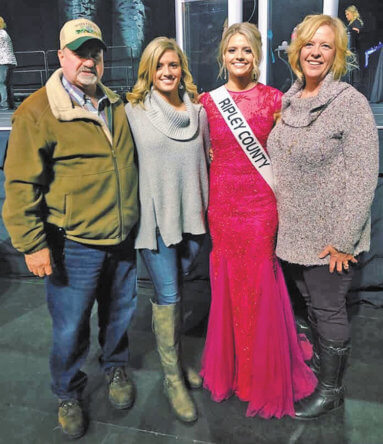 SUBMITTED PHOTO
Beauty runs in their family-it must be in their DNA! That's just how it is for the children of Danny and Michele Speer of Holton. Their oldest daughter, Amberley Green was crowned Miss Ripley County in 1999; Hannah in 2017; and then her twin sister, Heidi in 2019. But, the girls have more than physical beauty. They have a deep-rooted goodness that goes right to their hearts. They also had an aunt that placed in a beauty pageant in another county.

Heidi took it to the next level, and over the weekend placed in the top 16 at the State level. "I was nervous," Heidi admitted, when talking with The Versailles Republican.

Heidi said there were 87 contestants and she never guessed she would place anywhere near the top. She was raised on a farm near Holton, was home-schooled until her junior year, and is very unassuming about her beauty and pleasant personality.

She said going to State was quite an experience, one she has learned from.She will also cherish the friendships she made while there. On Friday, January 3 the girls all gathered at the Indiana Coliseum where one-on-one interviews were conducted in front of three judges. Then on Saturday, they gave a one minute prepared speech, modeled professional wear, where she wore a navy pant suit with white lace top, and finally modeling the formalwear, which for Heidi was a raspberry pink heavily beaded gown.

After the girls all made their appearance on the stage for the last glance for the judges, they would wait again until Sunday, where they would repeat their one minute speech. Heidi admitted that was nerve-wracking as she felt keeping what she needed to say to just one minute was hard. She is in her second year at Purdue University studying Agri-Business and minoring in Crop Science. She brought that reveleance to the human life, and in one minute she apparently turned some heads.

Heidi believes the whole experience of the county pageant to the State Fair Pageant is one that has helped her grow. "I have met so many new people, and had such great community support," she noted. She said she feels that being home-schooled gave her a great foundation for transitioning into public school where she enrolled in FFA. In that class, she said she learned a lot more about being in front of people, and the once reserved girl could speak out and be heard.

She gives a lot of credit to her parents for their continued support, along with her grandma Mary Evelyn Speer, who always tells her to do her best and she will be praying for her. Heidi also credits having a close knit church family, and God for everything she does. "It helps so much to have people who love you cheering you on," she concluded.

Ripley County has not placed this high in the state pageant since Theresa Smith won in 1965. Heidi is proud to shine for the county and quick to give praise to those who have helped her along the way.