County to benefit from grants awarded to EMA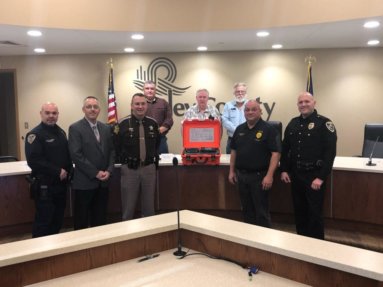 Submitted Photo
According to information from Patrick Rose, director of Ripley County Emergency Management Services, two grants have been funded through the Department of Homeland Security that will help EMA performance.
The first grant (2018 Emergency Management Performance Grant Competitive) was for a Personal Data Network, which is a device that can be set up anywhere without needing power or antennas. This will provide an Internet network as well as support Wi-Fi calling where there is no service. This portable device is located in the Ripley County Emergency Operation Center and is available to local, state and federal responders. This device cost $5374.34.
Rose noted that the second grant, a 2018 State Homeland Security Grant, was used to purchase seven Cradlepoint mobile modem systems that allow the officers to have a reliable signal with the Spillman CADS computer system. This provides up-to-date tracking as well as secondary means of communications. This system can also be used for Wi-Fi calling in areas where phone service is not available. The following agencies received these systems: Ripley County Sheriff's Office, Court Services, Holton, Sunman and Versailles police departments; and the Ripley County Commissioners.
The Ripley County EMA and court services also conducted a victim assistance center drill in December. This timed drill was a test in the event EMS has to set up a center for victims displaced due to a disaster.
Ripley County Court Services RCATS students assisted in this exercise and each student received a certificate of appreciation from Gary Stutler, president of the Ripley County Commissioners.
EMA is one of those behind-the-scenes agencies that continue to work without much notice. But, when there is a catastrophic disaster they are prepared to take charge of many things to assist residents.