Couple evacuates apartment complex as fire grows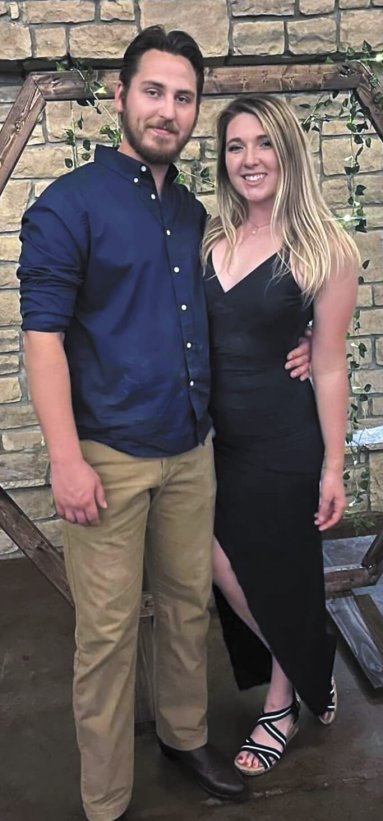 Submitted Photo
Shawn Schmidt and Jamie Cogan don't look at themselves as heroes, but their quick actions tell another story.
Last Tuesday, March 7, as they walked their three dogs at Oakmont Apartments in Batesville where they live, they noticed a flash of light in one of the apartments.

"I saw a light flickering," Shawn remembered. As the couple got closer, they realized it wasn't a flash from the TV, but a real fire inside the apartment.
Jamie said she thought, "Is that a fire inside? Honestly, it didn't look like one at first."

But the couple didn't leave anything to chance and soon realized the one-foot flame was three feet and spreading fast.
"We started knocking on doors – letting residents know," Shawn said. He quickly had a plan with Jamie taking one section and he another until everyone was safe. Shawn asked someone in the apartment building to call 911 first, since he didn't have his phone with him.

There were families with small children at home, a lady who was pregnant in an apartment beneath the one on fire, with Shawn and Jamie knowing it could have been so much worse. According to Shawn and Jamie, the residents didn't know there was a fire and were shocked when told to get out. Jamie said, "At first when I was knocking on the doors, I was polite, just saying they needed to get out," she noted. Her fear was heightened, and she began running and banging on the doors and yelling for everyone to get out.

Something else Shawn knew, since he is a resident of the apartments, is that they are fueled with gas. He immediately thought of that, knowing if the fire got going it could be catastrophic.

When firefighters arrived, they were greeted by Shawn, who held the door and directed them to the apartment that was on fire.
Shawn is a 2016 graduate of Milan High School and works as a Corrections Officer in Dearborn County. He aspires to become a state police officer. Jamie is an RN Manager for Cincinnati Behavioral Health.

The Morris Volunteer Fire Department arrived first, followed closely by Batesville Fire and officers from the Batesville Police Department. Everyone had been evacuated safely before emergency services arrived thanks to the quick-thinking couple and no one was injured. No one was home at the apartment where the fire originated.