Coverage area wins big at Switz Invite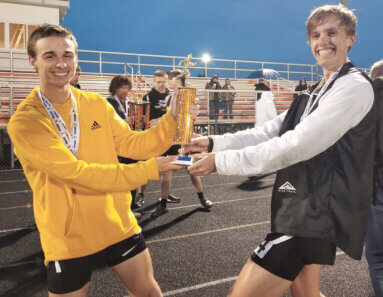 Milan Track
Three coverage area teams combined for 21 event wins and three locals were named Most Valuable Performer in the annual Vevay Media Group Invitational at Switzerland County.

Milan's boys took home the invitational championship while South Ripley's girls were a second place finisher. All three coverage area schools in the event had at least one team post a top five finish in the team standings by the end of the night.
Another Indian win came via 182.50 points, running away from host Switzerland County who finished up with 101.50 points. Southwestern (Hanover) placed third with 85 points, South Ripley was fourth with 73 points and Jac-Cen-Del placed fifth at 53 points. Rising Sun, Shawe Memorial and New Washington rounded out the field.

Ben Riehle and Ayden Potts were named Co-MVPs of the boys invitational after accounting for a combined seven wins. That included the duo joining up with Gabe Riehle and Ethan Dehamer to set a new meet record in the 1600 relay as the group won in a blazing speed of 3:37.45. That broke the previous mark of 3:38.88 set by Lawrenceburg in 2018. Riehle then won the 100 dash in 11.50 seconds, the 200 dash in 22.96 seconds and the 400 dash at 50.93 seconds, which was also a meet record that he had set a year ago in 51.56 seconds.

Potts won the 800 run in a time of 2:05.70 and swept the 1600 and 3200 runs in times of 4:48 and 10:34.99 respectively. Five other events saw Milan get wins. Austin Green was a double-winner in the high jump (6') and the long jump (18'7.25" and Mason Green won the 110 hurdles in 18.46 seconds. The 400 relay team of both Greens, Jonny Volk and Brady Werner won at 45.76 seconds and the 3200 relay squad of Dehamer, Lucas Cooney, Alex Wenger and Gabe Riehle won at 9:11.68.

The following were second and third place finishers for the Indians: Second Place
Volk, 200 dash, 23.90; Cooney, 3200 10:36.18; Abe Hudepohl, shot put, 38'8." Third Place – Volk, 100 dash, 11.86; G. Riehle, 800, 2:10.42, G. Riehle, 1600, 4:53.02; Werner, long jump, 18'1."
Jac-Cen-Del's Corbin White won two field events. He picked up the shot put title at 41 feet and five inches then won the discus with a throw of 128 feet and eight inches. Jacob Ricke was runner-up in the 400 dash in a time of 53.26 seconds and Sam Simon placed third in the discus with a throw of 107 feet.

South Ripley got two top three finishes out of William Tunny who was second in the high jump at five feet and 10 inches and then third in the 110 hurdles at 16.59 seconds. Jacob Ivey ran third in the 400 in 54.52 seconds, Hayden Hooten was third in the 3200 at 11:37.23 and the team of Hooten, Carson Fisk, Luke Bradley and Jordan Davis went third in the 3200 relay 9:16.47.
Switzerland County and South Ripley went back-and-forth all night in the girls invitational with the Lady Pacers winning out by a 170-123 score. Rising Sun was third with 89 points, Southwestern had 53 points for fourth place and Milan totaled 43.50 points for fifth place. Jac-Cen-Del ran sixth as a team at 28.50 points.

South Ripley senior Emily Flood scored 40 points on her own en route to being named the Girls Most Valuable Performer which included setting a new meet record in the 100 hurdles. Her time of 15.73 seconds broke the old mark of 16.42 seconds, set by Jac-Cen-Del's Kelsey Bowling in 2015. Flood also won the 100 dash in 13.38 seconds, the 200 dash in 27.65 seconds and the high jump at four feet and eight inches.

Shelby Bastin gave the Lady Raiders another win in the 1600 run in a time of 5:46.42 and then was third in the 3200 run at 13:55.19. Alexa Yeomans won the 300 hurdles at 53.51 seconds and placed second behind Flood in the 100 hurdles at 16.14 seconds. Bastin, Jennier McIntosh, Mady Tingle and Kylie Betz placed third in the 3200 relay at 12:55.64.

Josie Havlin was the lone winner for the Milan girls after winning the 400 dash in a time of 1:05.96. Elly Potts put together two top three finishes, going second in the 3200 at 13:21.35 and then getting a third place ribbon in the 1600 run at 6:25.83. Anna Herzog placed fourth in the 400 dash (1:09.14) and sixth in the long jump (12'11").

Brynn Negangard had a fifth and sixth place finish for Jac-Cen-Del. She was fifth in the discus with a throw of 64 feet and eight inches and sixth in the shot put with a throw of 23 feet and 9 inches. Allene Peters ran fifth in the 1600 in 6:42.12, Kinsey Rohls was fifth in the 100 hurdles in 20.86 seconds and Emma Wagner got a fifth place in the high jump at four feet and four inches.
South Ripley and Jac-Cen-Del compete in a four-way meet with Switzerland County and Shawe tonight while Milan hosts a tri-meet this evening against Rising Sun and Lawrenceburg.