COVID-19 uncovers mental health conditions, state provides resources to stop them from becoming chronic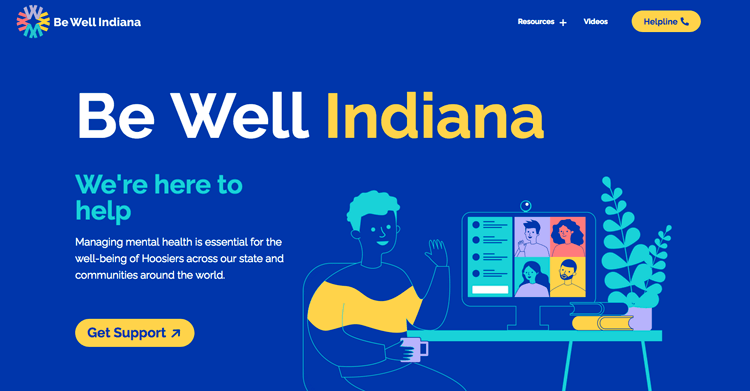 As all state offices are focusing at least some – if not all – of their attention on the ongoing pandemic's effects on different parts of our world, the Family and Social Services Administration of Indiana is no exception. During a recent press conference with Dr. Jennifer Sullivan, the secretary of this Hoosier administration shared what they have learned so far about the impact on mental health across the state as we continue to live under recommendations of social distancing from state and local authorities. "Many are affected by COVID-19 itself – dealing with loss and fear. We're all afflicted with the mental health aspects of this pandemic," said Sullivan. "Disruption to our daily lives continues with recurrent needs for quarantine and isolation, changes to school and work schedules, unexpected illness of friends and family, and disruption to our social supports."

She also pointed out the normal mental health difficulties people often struggle with during the colder, gloomier winter months and the holiday season, which is still in our rearview mirror.

Ongoing data collection is showing that COVID-19's impact is revealing mental health issues that people may not have known they had. Sullivan explained that people have been diagnosed with minor and severe mental health issues since last March when the coronavirus began to change the world as we once knew it.

More than 25,000 Hoosiers have taken advantage of Be Well Indiana, an online resource to identify underlying or new mental health issues they are dealing with. According to Sullivan, more than half of these participants are under the age of 25.

The state launched BeWellIndiana.org in April 2020 to act as an online clearinghouse to provide support and mental health resources for Indiana residents. The site includes self-assessment opportunities for a variety of common mental health issues – depression, anxiety, eating disorders, addictions, etc. – so they may begin seeking the proper care.
"For more than three-quarters of those taking the self-assessments, there was confirmation of a mental health diagnosis," Sullivan explained. "In fact, more than half of all self-screenings in 2020 confirmed a moderate to severe presence of depression, bi-polar disorder, or anxiety – the three top mental health issues related to suicide."

Contributing factors to new, developing mental health issues include loneliness or isolation, past traumas and relationship problems.

"What this says to me is that we have young people with new and serious mental health conditions…We have a responsibility and an opportunity to make sure we support these individuals so that their mental health needs are met now and do not become chronic.

The state also created the Be Well Crisis Helpline in 2020. This phone service, available by calling 2-1-1, can be used 24/7 to talk to counselors. Sullivan explained those working the helpline are experienced and have been trained to assist with mental health conditions coinciding with the ongoing pandemic. They are also helping connect callers to resources for food, clothing, housing support and utility assistance, as well as, ongoing counseling resources.

The top issues reported to the helpline are isolation or withdrawal, issues with sleep, anxiety and difficulty concentrating, according to family and social services data.

The Family and Social Service Administration of Indiana is encouraging all Hoosiers to "commit to connect". Thinking outside the box and to continue to communicate with social supports outside one's household can help combat some of the mental health conditions that are on the rise across populations of all ages.

Sullivan recommended writing letters or postcards to family and friends, something she has been doing herself for awhile. But, if you are not a writer, phone calls, video chat and other messaging platforms can also help create or recreate social connections.

"Even if you feel like you don't need to connect, the people you would be connecting with probably do," said Sullivan. "Please realize that it's okay to reach out for help and help others around you to get through this, too."