Crash claims life of Versailles woman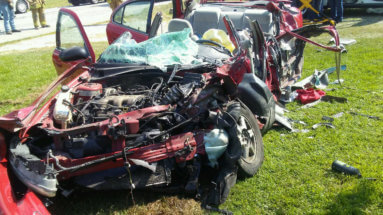 VERSAILLES FIRE RESCUE PHOTO
Troopers from the Indiana State Police-Versailles Post responded to a two-vehicle crash on US 421 south of Versailles that claimed the life of a Versailles woman about 1:30 p.m. Tuesday, August 3.

Mary Hunt, 80, sustained fatal injuries in the collision. According to information from the Indiana State Police, Hunt was operating a 2004 Oldsmobile passenger car southbound on US 421 near County Road 925 South. For an unknown reason, Hunt's vehicle crossed the centerline into the path of a northbound white 2016 International box truck, which was being driven by Ronald Chigumira, 34 of Avon, Indiana.

Police said Chigumira took evasive action to try to avoid Hunt's vehicle, but they collided head-on in the roadway. After the impact, both vehicles left the roadway before coming to a stop.

Traffic in that area was closed for several hours as police investigated the crash. Hunt was pronounced deceased at the scene by the Ripley County Coroner's Office and Chigumira was treated for minor injuries at the scene and released.

Police say alcohol and drugs are not believed to be factors in the crash although toxicology results are pending. The crash was still being investigated at press time.

Master Trooper Ben Bastin was assisted at the scene by Senior Trooper Kyle Black, Senior Trooper Matthew Holley, Trooper Andrew Garrett – Indiana State Police Versailles Post, Ripley County EMS, New Marion Fire Department, Versailles Fire Department and the Ripley County Coroner's Office. Friendship Volunteer Fire Department was also dispatched to the scene.