Cross Country continues to shine as 2020 season approaches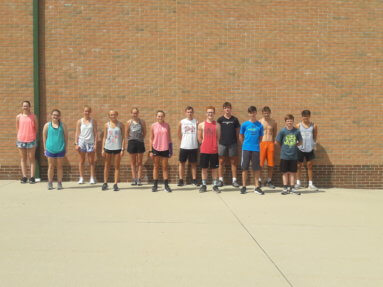 Submitted Photo
While many local sports thrive in Ripley County, one could argue that cross country has been the most consistent winner in recent years. 2020 appears to be no different and local runners take off for what will be a long distance haul for the next three months.
Here is a look at this season's local cross country teams:

Batesville

Both the boys and girls Bulldog programs swept the Ripley County, EIAC and sectional titles last season and the girls' squad took it a step further, claiming their first-ever regional championship. Without question, Batesville remains a force to be reckoned with.

The Bulldog girls lost one senior in Liz Loichinger, who now runs at Marian University, but back is a state qualifier in junior Lily Pinckley along with five others from last year's top seven runners. Other returners include senior Trysta Vierling, juniors Maria Lopez, Katie Olsen, Carley Pride and Sarah Ripperger, and sophomores Madison Rahschulte, Sophie Myers and Ava Hanson. Batesville also adds three freshmen to the group and a junior runner who is new to the school.

"The top goal this year is to defend the regional title and to be standing on the state line competing as a team instead of individually," Batesville head coach Lisa Gausman said. "We have a lot of base to build on from last year and a lot of hungry runners wanting to make history again."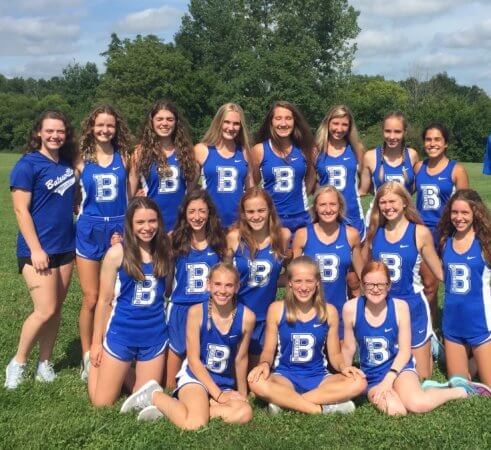 On the boys' side, Batesville loses two seniors from the top seven runners last season but with five coming back and a runner returning from injury, the Bulldogs look to make a run to the boys state meet later this fall. The return-from-injury runner, Adam Hollowell, is a senior, and will be joined by classmates Nathan Villani, Dillon Murray, Landon Gutzwiller and Luke Nuhring. Ean Loichinger, Benjamin Master, Daren Smith, Will Nuhring and Kyler Daulton head up a strong junior class and freshman Eli Loichinger joins the fold.

"Our boys are looking to join the girls in taking home a regional title and make it to the state meet," Gausman added. "The seniors did an amazing job leading the team in the offseason, especially when the normal conditioning months came up and we were unable to practice as a team. I was really impressed at the condition all of our kids were in. We have a lot of base to build on."

Batesville is slated to open the cross country season on Saturday at the Valley Cross Country Kickoff in Terre Haute.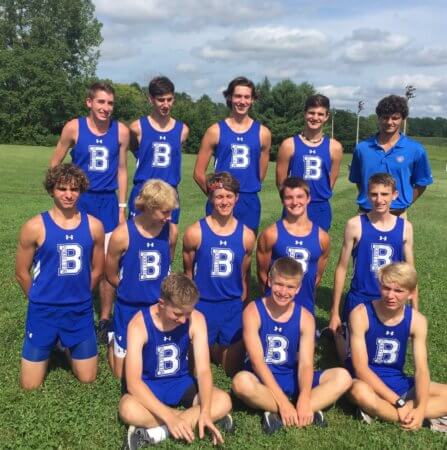 Jac-Cen-Del

Jac-Cen-Del boys and girls finished second in the Ohio River Valley Conference and sat in the top tier of teams in most major races last season. That should be the case again this year and then some.

The Lady Eagles went 52-14 last year and just barely missed qualifying for the regional in 2019 but as the new season approaches, two individual qualifiers come back in hopes to hit the top five team mark in 2020. Juniors Cloey Simon and Kayla Simon lead a well-balanced group of a tentative nine on the roster. Shelby Reatherford adds to the junior class and Jac-Cen-Del has three seniors in Lauryn Dilk, Avery Negangard and Kaytlin Sizemore. Teara Brewer is a sophomore and two newcomers are freshmen Kinsey Rohls and Allison Peetz.

"We have a good mix of older kids and younger kids," Jac-Cen-Del head coach David Bradshaw said. "You never know with cross country. You get out of it what you put into it. Cloey (Simon) and Kayla (Simon) ran a lot over the summer so this group really has a lot of potential."

On the boys side, Jac-Cen-Del placed fifth in the South Dearborn sectional and qualified for the regional as a team but only three return from last year's group that went 54-20. On the plus side, two of the three were top runners in 2019.

Senior Damon Hughes qualified for his second-straight individual appearance in the semi-state last season and Josh Pohle, a junior, was an all-conference and all-county runner, placing in the top five in both of those championship runs. Also returning is junior Kameron Darnold, who is joined by classmates Austin Rohls and Adam Maloney. Although a small group, the Eagles are confident in their abilities and will rely on veteran leadership.

"We lost some important runners so I guess you could say this is somewhat of a rebuilding year," Bradshaw said of the boys. "We have a good core of runners. I'd like to get a couple more boys on the roster. This group, it will just depend on how hard they work."

Jac-Cen-Del sees its schedule tentatively open in a four-way meet at Milan on Thursday, August 27 against the Indians, South Decatur and South Ripley.

Milan
On both sides, Milan cross country is slim on numbers but mighty in what can be accomplished with a small group. The Indians are young but ready to compete.

Only three girls make up the Milan girls' roster and the trio just happens to be sisters. Juniors Lucy and Renee Lillis will team up with little sister Lucy, a freshman on the team. Both Lucy and Renee qualified for the regional race last year and perhaps a third sister can join the fray, something that would be a rather unique accomplishment.

"Lucy (Lillis) and Renee (Lillis) had outstanding seasons last year and are trying to get back to the regional," Milan head coach Brian Potts said. "Sarah (Lillis) is trying to fill their shoes and push them farther. A semi-state for those three is a big goal this year."

Four underclassmen and one senior make up the boys' roster, with the lone senior being Jared Rigdon. Parker Sutherlin is a sophomore and the three freshmen include Ben Riehle, Ethan DeHamer and Ayden Potts.

Ben (Riehle) won the ORVC as an eighth grader and now wants to make it to the semi-state as a freshman," Potts said. "Ayden (Potts) is also looking to make it to the semi-state. Our team motto for this year is 'The race always hurts. Expect it to hurt. Don't train so it doesn't hurt. You train so you can tolerate it.' During life you will have challenges that will cause you problems or discomfort. Training at a young age to overcome these issues will help you overcome the obstacles of the future."

Milan opens at the Triton Central Invitational on Monday evening.

Oldenburg Academy

Oldenburg boys were a regional qualifier last fall and the girls program looks to make an upward trend this season.

The Twister boys finished third in the sectional last season and finished the year with a sixth place finish in the regional run. Tyler Kuntz and Dylan Fledderman qualified as individuals for the semi-state. The Oldenburg girls were unable to field a complete team in the sectional and no individual runners advanced in the postseason. Information for the upcoming season was not received by time of print.

Oldenburg has not listed a full schedule for the 2020 fall season.

South Ripley

South Ripley brings two well-rounded groups to the table and will again be a consistent threat in the area in 2020.

The Lady Raiders continued to see success on their end, winning the ORVC championship, placing second in the county and qualifying for the regional after placing third in the sectional. South Ripley has the majority of that group back including semi-state qualifier Lanie Nicholson. Also back are top runners Emily Campbell and Deborah Murphy alongside Ava Ralston and Kara Young. Two newcomers to the team are Katie Mitchell and Lucy Nicholson.

"Our girls had a strong season last year," South Ripley head coach Jim Cole said. "The girls work hard. We have been talking about some goals but as my athletes know, my coaching style is to show up every day, work hard, stay consistent, be flexible and believe in our program. I believe our girls and our boys will both have a strong appearance this year."

The boys program may have not experienced quite the success of years past but the momentum that built at the end of last season carries over with a veteran group returning.

The Raiders have seven returners in all-conference selection Nick Zigan, Tanner Franklin, Dalton Parker, Ryan Gorrell, Hayden Hooten, Logan Bradley and Cameron Reatherford. Blake Volz and Evan Eaglin are new additions to the program and will add to the mix.

"Our boys have some senior leadership with a developing young team," Cole added. "Our boys were relatively young last year and really started to show improvement at the varsity level. I do believe our boys will be a team to watch."

South Ripley opens next Monday at the Early Bird Invitational at Blue River Park.