Darnold heading to Franklin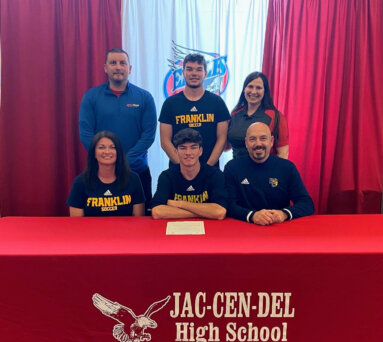 PHOTO BY NICOLE DROCKELMAN
Soccer has always been a love for Kameron Darnold since the age of four and such love is now taking the Jac-Cen-Del senior to the next level as Darnold is set to play the game at Franklin College this upcoming fall.

Darnold had signed his letter of intent to Franklin this past spring. Also a baseball player at Jac-Cen-Del, he participated in graduation ceremonies at the school two weeks ago and now has his focus set on soccer for the Grizzlies.

Jac-Cen-Del has had its fair share of success on the pitch over the last few seasons and Darnold has very much been a part of that success. An All-Ohio River Valley Conference selection, Darnold helped the Eagles to a pair of sectional championships and a Class A regional crown during his high school career which also included a top five ranking in the state. His senior year saw Jac-Cen-Del named as co-champs of the ORVC while he tallied 22 goals and was one of the team's top defenders.

Franklin, an NCAA Division III school, competes inside the Heartland Collegiate Athletic Conference which also features Hanover, Rose-Hulman and Manchester University. The Grizzlies finished 7-9-1 this past fall, rounding out its season with an HCAC Tournament loss to Defiance (Ohio) in the quarterfinal round.

The 2022 season will see two Darnolds on the roster. Kameron will be joining up with his older brother Kobe on the team who has starred for two seasons at Franklin already. The upcoming junior started in 14 matches for the Grizzlies in the fall and scored his first career goal in a match against Olivet on September 15.

Darnold is the son of Chris and Tara Darnold. He will be majoring in Molecular Biology.