Dausch awarded Sagamore of the Wabash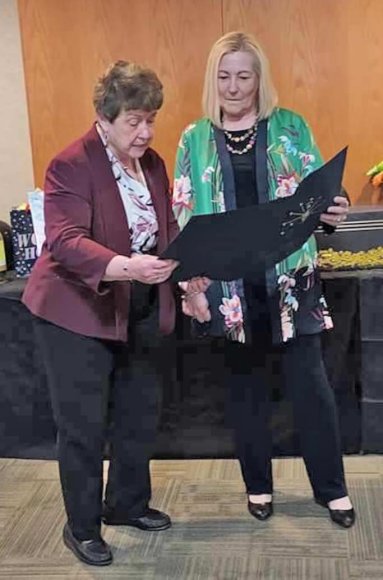 Karen Reynolds
A classy retirement celebration was presented to Marie Dausch, executive director at Southeastern Indiana's New Horizons. Dausch is retiring after 45 years of passion and dedication to New Horizons as of March 31, 2023. The party was held at New Horizons on Six Pine CLASSY Ranch Road at Batesville.

It was really an all-day event beginning in the morning with all the clients of the day program gathering in the hallways to say "thank you" and "we love you." Client artwork was scattered up and down the hallways. And, they finished their presentation by singing "This Little Light of Mine." Kim Day, a New Horizons client wanted her picture taken with Dausch whom she says is "super sweet."

Balloons were scattered throughout the offices with tables of classy appetizers and sweets. Final preparations for the afternoon was completed while Dausch was out to lunch. Her surprise was truly amazing! All Dausch had to say was "I just did what was right for my clients so they could be happy."

Several awards were presented to Dausch at the party but she had already been acknowledged by the Batesville Chamber of Commerce at their annual meeting where they awarded her the Distinguished Service Award reflecting the years of growth in the services of New Horizons to the community. Several special things were awarded to Dausch at the party. New Horizons gave her a plaque that looked like a puzzle piece which said, "Never forget you are the piece that made the difference." New Horizons of southeastern Indiana thanked Dausch for 45 years of dedication, passion, service and leadership.

Stephanie Spratt, a staff member, described Dausch as an "understanding advocate for clients." According to Spratt, Dausch is a "beautiful soul who is a hard worker." Spratt maintained that Dausch will be missed at New Horizons as the place won't be the same without her.

According to Jimmy Ryan, the new executive director as of April 1, 2023, Dausch has built a great foundation which he can build on. Jean Leising, Indiana state senator, presented Dausch with the Sagamore of the Wabash award from Governor Eric Holcomb. According to Leising, only 120 of these awards are granted by the governor in a year. Leising also presented Dausch an award from Batesville mayor, Mike Bettice, making March 31, 2023 Marie Dausch Day.

On another note, Arlene Goodapple, Dausch's fourth grade teacher at the old Sunman Elementary, attended this party and said she always "knew" even back then, that Marie Dausch was a future star. That star has burned brightly for 45 years at New Horizons to help people with disabilities to be the best they could be in their own communities.