Day reaches 1000 career points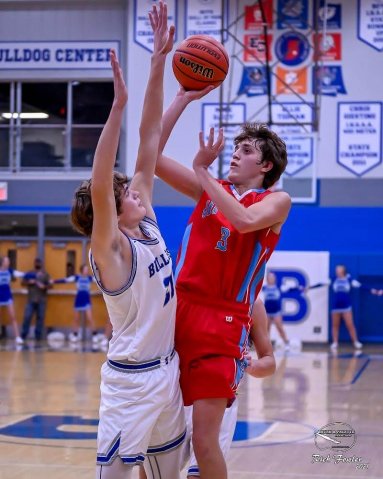 PHOTO BY RICH FOWLER
Senior Wyatt Day joined a select group of all-time greats at Jac-Cen-Del on Wednesday night and the Class A No. 7 Eagles earned themselves a 1-1 split late in the week as part of the boys basketball slate.

Day's celebratory accomplishment came on Wednesday as part of an 81-56 loss at Jennings County, snapping a three-game winning streak for Jac-Cen-Del. Jennings County, who is now 10-3 on the season, is arguably the best team in Southeastern Indiana this season with its three losses coming to Columbus North, Seymour and Center Grove.

The Panthers hit five 3-pointers in the opening stanza en route to a 29-9 lead after the first eight minutes. Jennings County then proceeded to add 26 second quarter points to build the advantage up to 25 points by halftime before 20 points in the third period put the score at 75-43. Jac-Cen-Del won the fourth quarter battle by a 13-6 margin.
Jennings County drilled 12 three-pointers and put four players in double figures. Owen Law scored 20 points while Carter Kent and Jacob Vogel scored 13 points apiece. Lane Zohrlaut added 10 points.

As for Day, his 19 points not only led the Eagles for the night but put him over the 1000 career point mark, a mark that has only been reached by 10 players in program history. The Jac-Cen-Del senior passed 1964 graduate Roger Little (1004 points) for ninth on the all-time scoring list and he now trails 1983 graduate and current Lady Eagle head coach Scott Smith (1066 points) for eighth place on the list.

Caleb Simon added 10 points in the loss while Nathan Hoffman and Justin Swinney scored eight points apiece. Matt Dickman scored six points, Devin Grieshop scored three points and Gavin Groth chipped in two points.

Fortunes turned for the better on Saturday night as Jac-Cen-Del blasted host Waldron 90-64 in a battle of Class A Sectional 60 teams. The Eagles started the game out in front by a 21-15 score and then used a 25-13 second quarter run to push out in front 46-28 at intermission. The offense continued to sizzle for the Osgood crew in the second half as they totaled 44 points to Waldron's 36 points.

The 90 points is the most scored in a game by Jac-Cen-Del this season, having previously totaled 82 points against Batesville on November 27 and 85 points against South Decatur on December 4.

Five players scored in double figures for the Eagles and it was Simon's turn to lead the way, doing so with 25 points. The senior totaled 14 points in the first half and 11 points in the second half and had 10 points apiece in the first and third quarters. Day added 16 points, Grieshop scored 15 points off the bench and the duo of Dickman and Swinney scored 10 points apiece.

Hoffman added six points and Ryan Wilson scored five points. Corbin White and Groth rounded out the scoring with two points and one point apiece.

Waldron (7-5) got a combined 48 points from Bryce Yarling and Lucas Mitchell. Yarling totaled 25 points while Mitchell scored 23 points.

Jac-Cen-Del (8-3) hosts Shawe Memorial in an Ohio River Valley Conference game on Friday night before hosting Lawrenceburg on Saturday.