Despite loss, Milan football community supports team in Indy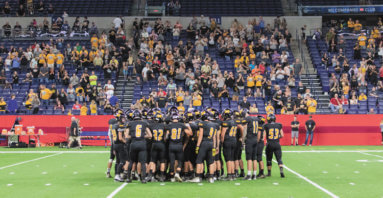 JARED ROGERS PHOTO
The final score didn't turn out the way Milan football fans hoped, but the community showed up in force to support their Indians as the team relished the opportunity to play on the biggest stage in the state: Lucas Oil Stadium, home of the Indianpolis Colts.

Milan faced Lawrenceburg in the final matchup of four games played on the day, dubbed the Southeastern Showdown, which featured teams from Greensburg, Connersville, Rushville, Franklin County, Batesville, South Dearborn, Lawrenceburg, and Milan.

Milan entered the match 2-0, but quickly found themselves on the wrong side of the scoreboard when Lawrenceburg's Dakota Roth ran the opening kickoff 82 yards for a touchdown.

Milan was forced to punt during their first offensive drive, but soon recovered a fumble to get the ball back midway through the first quarter.

With just over four minutes in the first, Milan quarterback Parker Lewis connected with Adam Norman who proceeded to run 80 yards down the Milan sideline for a touchdown. With the scored evened, Milan looked as though they had shaken off some early jitters and were ready to challenge the Tigers.

The orange and white squad had different feelings, however, and went on to run the ball hard against the Indians in the second and third quarters.

Two touchdowns for Lawrenceburg in the second made the halftime score 21-7. Two more in the third quarter, followed by an early score in the fourth, essentially put the game out of reach for Milan at 42-7.

A final ray of positivity shone for Milan near the five minute mark of the final quarter when QB Lewis found Peyton Wert for a six yard touchdown catch. With kicker Ethan Kaulig's extra point, the game ended 42-14 in favor of the Tigers.

While Milan enjoyed a decent passing game, as has been their strength early this season, the difference on the ground was palpable toward Lawrenceburg's success. The Tigers rushed for 267 yards while holding the Indians to only nine yards.

Milan will look to recover from last week's game as they face South Decatur at home on Friday, September 20. Kickoff is set for 7:00 p.m. with homecoming festivities planned. The Cougars enter the game 1-2 having defeated Tri-County 27-8 but losing to North Decatur 39-7 and Indianapolis Tindley 47-20. Milan won last year's matchup in a rain soaked game at South Decatur by a score of 40-0.