Dillsboro artists bring wood Christmas figurines to life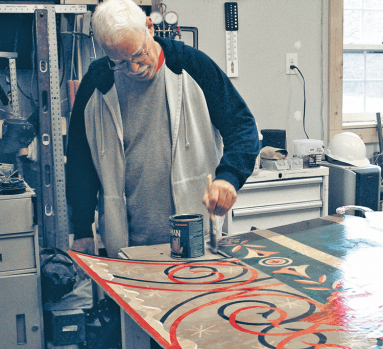 SUBMITTED PHOTO
Many in the area remember making the trip to Dillsboro to see the beautiful light display at the Dale and Verneda Wendelman home. According to Susan Greco, economic development director for the Town of Dillsboro, The Wendelmans brought the joy of Christmas through their lawn display at North and Front streets.
"The life-sized plywood lawn ornaments were part of a Dillsboro tradition since 1959," she noted. "Those of us, young and old, remember the extravagant light show at the Wendelman's. People would drive from all over Dearborn County and beyond to sign his registry and marvel at the twinkling colors," she continued.
These giant plywood Christmas decorations were all the rage during the late 1950's. The patterns for this display were sold by the Douglas Fir Plywood Association in Tacoma, Washington and were cut and assembled by Dale. Greco noted that the patterns were printed with sun-fast inks on durable paper back them. They were then glued to the plywood, cut out and assembled. Each pattern costs just 50-cents.

When the Wendelmans could no longer put up the display, the original plywood ornaments were obtained by Paul Elliott, a lifelong friend of the family. "Last year, he donated the display to the Dillsboro Civic Club. Our Hometown Christmas committee decided to feature the display as part of the traditional Christmas event this year," noted Greco.

When they began to look at the items, it was apparent they had been damaged over the years being exposed to the elements. Here's where Tom and Virginia Kramer come in. The local artists looked at the historical pieces and agreed to restore them. Some of the wood had to be reinforced, and the missing paper design was brushed in with acrylics. The display was then recoated with polyurethane to preserve the vintage decoration, noted Greco.

The completed display now graces the lawn at the original spot of North and Front streets for everyone to enjoy throughout the holiday season. "Civic Club President, Brett Hamilton, along with a couple of drop-in volunteers, placed the Santa, sleigh and reindeer back in the center of Dillsboro," concluded Greco.
During this time when it's best not to mingle with others, it's the perfect thing to do. Take a ride to Dillsboro where Christmas is truly alive through the dedication and hard work of those who want to keep the tradition going.