Door locks in place; Milan schools are 100% compliant w/state audit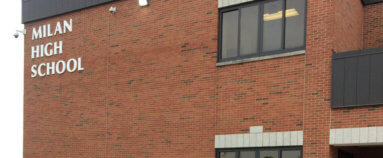 File photo
The Milan School Board of Trustees met for their first session of 2019 on Monday, January 14. During the meeting, School Resource Officer Noel Houze informed the trustees that new classroom door locks in the elementary school had been installed. The new locks give teachers access to their rooms with their identification cards. They also now have the option to leave their classrooms unlocked during the day, with the ability to remotely lock them on a moment's notice. Houze also has the ability to lockdown the entire building if required. Houze reported that all school buildings were 100% compliant with the State's safety audit, which recently took place.
Superintendent Jane Rogers reported the high school choral department had received a $5,000.00 grant from the Rising Sun Regional Foundation toward the purchase of new risers. Additional funds will be garnered with fundraising efforts. Rogers also explained the new ILEARN testing for grades three through eight will begin in April, giving both the teachers and students more time to prepare. Rogers also took time during the meeting to thank Houze for his presentation and safety efforts, saying he is an asset to the school and the community. She also thanked the bus drivers for going above and beyond during the snowy and icy days, also expressing appreciation to the state and county highway workers. Lastly, she thanked Doug Norman for his past year of service as the board president, and offered best wishes to the new board officers.
The board approved several employment recommendations, including Dr. Reale's recommendation to employ James Gayheart as a corporation route bus driver, as well as recommendations by Mr. Murphy to employ Gayheart as an intermediate school special needs aide and Kelly Castletine as middle school special needs aid until the end of the 2018-2019 school year.
The next regular meeting of the Milan Board of School Trustees is scheduled for Monday, February 11 at 7:00 p.m.