Double OT needed as Indians clip Bulldogs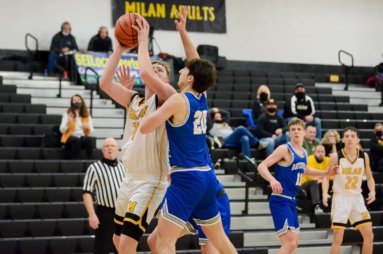 Photo by Teri Bockstahler Barker
Milan and Batesville have grown to be quite the rivals inside Ripley County and last Thursday the two teams played like it as the Indians needed an extra eight minutes of basketball to put away the Bulldogs 60-58 in double overtime at The Teepee.

The victory marks three-straight for Milan in the overall series against Batesville dating back to last season. The Indians won a regular season game and last year's Ripley County Tournament championship over the Bulldogs.

Early on it looked as if Milan perhaps would run away with the game quickly, building up a 15 point lead in the first half before Batesville was able to quickly trim down the deficit and trail by just seven points at halftime. The Bulldogs continued to trend upwards in the game and eventually forced overtime after trailing by two heading into the final frame.

Both overtime periods saw a back-and-forth affair but ultimately Milan's clutch free throw shooting served as a catalyst and the end result was Adam Norman's go-ahead jumper with 16 seconds left that gave Milan a two-point win.

Norman was one of three players for Milan to score in double figures, scoring 11 points in the game. Carsyn Ascherman paced the Indians with 19 points while Peyton Wert scored 14 points. Milan's offense saw eight different players reach the score column.

Batesville played without leading scorer Sam Voegele but got a big lift from RJ Powell who led all scorers with 24 points. Cole Werner scored 14 points and Thomas Raver added 10 points.
The Bulldogs finished the week with an Eastern Indiana Athletic Conference loss at home, falling to East Central 40-36 on Saturday. Batesville led 7-4 at the first stop but was doomed by a 17-8 Trojan run that the Dogs never recovered from despite cutting down on the margin in the second half.

Raver led Batesville with 11 points while Powell scored 10 points in the win.

Batesville (0-5) competes in its own holiday tournament on January 2 that also features Jennings County, Indianapolis Chatard and Whiteland.

Milan (2-3) plays Castle in the opening round of the Bedford North Lawrence Tournament on Wednesday, December 30.