Eagles capture ORVC crown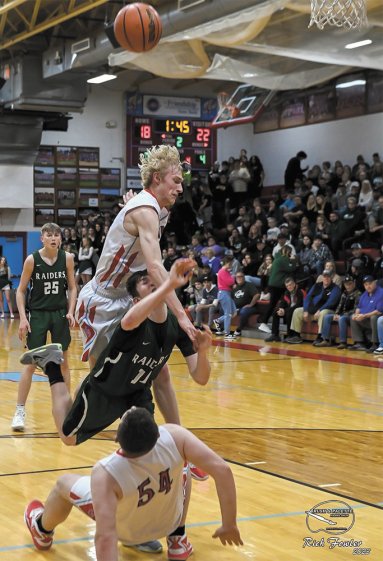 RICH FOWLER PHOTO
Matt Dickman drilled a game-tying 3-pointer to end the third quarter and momentum from that shot carried into the final eight minutes as Jac-Cen-Del captured a second-straight Ohio River Valley Conference boys basketball crown with a 49-40 win over rival South Ripley on Friday night.

Jac-Cen-Del captured last year's championship outright but splits the title with Class 2A No. 9 Southwestern (Hanover) this season. Both squads wrap up with 5-1 marks in conference play. The Eagles also used Friday night's win over South Ripley to lay claim to the Ripley Publishing Pride Trophy.

Dickman's heave at the horn wrapped up a third quarter in which the Eagles drained five 3-pointers to come back and erase a 24-19 halftime deficit. South Ripley's offense only continued to dwindle from that point after having led most of the way. With the Raiders being held to only seven points in the fourth quarter, Jac-Cen-Del surged in the final stanza and used a trio of seniors to get the job done.

Celebrating Senior Night on Friday, Devin Grieshop led the fourth quarter burst with six points while Seth Drockelman and Dickman each scored four points. Jac-Cen-Del finished the game on a 16-7 run, denying South Ripley its chance at a share of the conference championship while also securing a season sweep of the Raiders for a second-straight season.

Grieshop's seven first quarter points had propelled the Eagles to an early lead but South Ripley had bounced back before halftime, going on a 12-6 run in the second quarter which was paced by six points from Cole Henry and five points out of Chancie Volz.
That senior trio of Grieshop, Drockelman and Dickman would ultimately be the difference when looking at the scorebook. Grieshop led all scorers with 19 points which included 11 points in the second half while 10 of Drockelman's 14 total points were in the final two quarters as well. Dickman's first score of the entire night was the third quarter buzzer-beater and he finished with seven points.

Johnny Newhart added five points while senior Corbin White and junior Clark Dwenger scored two points apiece.
Gavin Binon's three 3-pointers in the second half -two in the fourth quarter- were unable to gain the Raiders any traction. Binion and Henry would share team-high scoring honors at 12 points while Volz finished at seven points. Blaine Ward was held to only six points while Logan Bradley and Ethan Johnson had two points and one point respectively.

South Ripley finishes the regular season with an 11-12 overall record and 4-2 mark in the ORVC. The Raiders host Class 2A Sectional 45 this week and do not play until the semifinal round on Friday night where they will host tournament favorite North Decatur (19-5).
Jac-Cen-Del (14-9, 5-1 ORVC) sets its sights on defending its Class A Sectional 60 title this week at Edinburgh. The Eagles play a 4-18 Southwestern (Shelby) squad in the first opening round game on Wednesday night.

FRIDAY'S BOYS
BASKETBALL GAME
at Jac-Cen-Del
JAC-CEN-DEL 49, SOUTH RIPLEY 40
SR – 12. 12. 9. 7. – 40
JCD – 13. 6 14. 16. – 49
SR (11-12, 4-2 ORVC) – Gavin Binion 12, Cole Henry 12, Chancie Volz 7, Blaine Ward 6, Logan Bradley 2, Ethan Johnson 1, Will Tunny 0.
JCD (14-9, 5-1 ORVC) – Devin Grieshop 19, Seth Drockelman 14, Matt Dickman 7, Johnny Newhart 5, Clark Dwenger 2, Corbin White 2, Gavin Groth, Landon Kohlman 0, DJ Brook 0.
3-Point Goals – SR 6 (Binion 4, Henry 1, Volz 1), JCD 6 (Grieshop 2, Drockelman 2, Newhart 2, Dickman 1). Total Fouls – SR 16, JCD 12. Free Throws – SR 6-11, JCD 7-11. Fouled Out – None.