Eagles clip Indians in ORVC showdown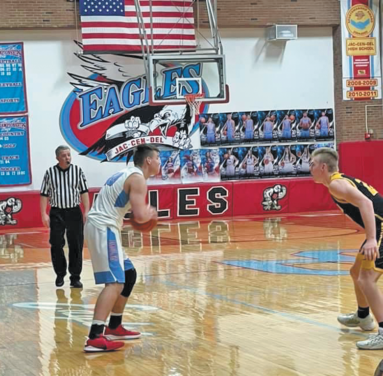 Photo Courtesy of JCD Sports

Jac-Cen-Del celebrated Senior Night amid pregame festivities and the in-game entertainment lived up to the night as the Eagles defended their home court in an 83-78 victory over Milan on Saturday night in an Ohio River Valley Conference rivalry matchup.

The win for the Eagles marks a clean sweep of Milan for the season. Jac-Cen-Del defeated the Indians 71-63 earlier this season in the opening round of the Ripley County Tournament. It is the first sweep since the 2015-2016 season.

Offense certainly did not lack for 32 minutes of play on Saturday night as it was Jac-Cen-Del getting off to a hot start, scoring 25 points in the opening frame for a six-point lead and then extending that advantage to 45-35 by halftime. Milan however was able to extinguish the fire in the third frame and get back into the game.

The Indians clamped down on defense just enough to open the second half, holding Jac-Cen-Del to 14 points while Milan's offense surged with a 24-point quarter, tying the game 59-59 heading into the fourth period. The two teams each caught fire in the final eight minutes, trading blows heading into the final minute of the contest before the Eagles were able to get back out in front 79-76 with 1:06 remaining.

Milan was unable to get any closer in the contest as Jac-Cen-Del added four points late to seal the victory.

It was perhaps the most well-balanced scoring Jac-Cen-Del has put together the entire season as four players reached double figures on the night. Caleb Simon and Cameron Gehl each scored 19 points to lead the way while Will Neal scored 18 points and Wyatt Day added 15 points. Eagle scoring was rounded out by Damon Hughes and Christian Comer with six points apiece.

Milan's Peyton Wert led all scorers with 24 points as the Indians put four players in double figures as well. Adam Norman finished with 19 points and Carsyn Ascherman scored 15 points while Bo Wade added 10 points. Indian scoring was rounded out by Josh Clark with eight points and Ethan Schwipps with two points.

Milan (10-9, 2-3 ORVC) also competed earlier last week, defeating North Decatur 67-30 at home in a matchup of Class 2A Sectional 44 teams. Statistics for that game last Wednesday were not reported by time of print. The Indians close out the regular season tonight at Shawe Memorial in an ORVC game.

Jac-Cen-Del (14-6, 4-0 ORVC) visits Rising Sun tonight in an ORVC matchup. A win for the Eagles sets up a winner-take-all conference championship game against Class 2A No. 6 South Ripley on Friday night in Osgood.