Eagles defeat Chargers 63-54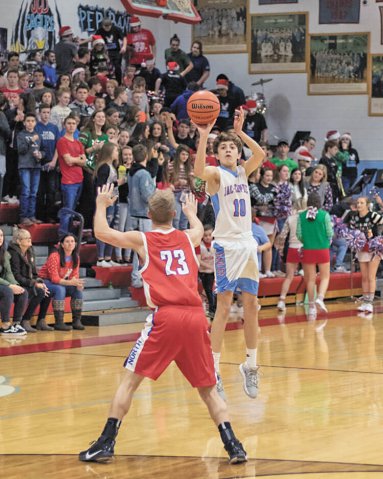 JARED ROGERS PHOTO
Jac-Cen-Del's boys varsity basketball team staged a second half comeback to defeat the visiting North Decatur Chargers on Friday, Dec. 13 in Osgood. The win boosted JCD to a 3-2 record, while North Decatur fell to 0-4. Since Friday's game, the Chargers have moved to 1-5 overall.

After a 15-15 first quarter, the Chargers took a five point lead to halftime at 28-23. JCD retook the lead 42-41 after three quarters and ultimately finished the game ahead by nine points thanks to hitting late free throws and confident ball control.

"Our kids just didn't give up," Eagles varsity head coach Jack Day said following the win. He felt his team played better defense and moved the ball more effectively on offense in the second half compared to the first. After a second-quarter draught, JCD shooters got back to finding the bottom of the net, too.

As a team, the Eagles went 17 for 22 from the free throw line, an impressive average of 77%. Individually, Wyatt Day hit seven of eight free throw attempts, including going six for six in the fourth quarter. Justin Ohlmansiek was four for four, all hit in the fourth quarter. Will Neal was three for four, and Caleb Simon two for two, with all of those attempts coming in the second half. Those points created the nine point spread in what was otherwise a back-and-forth game.

Day led his team in scoring with 16 points, which included three, three-pointers. Two of those long range shots came in the first quarter, the first right after the opening tip-off to get the JCD offensive engine up and running.

Christian Comer followed closely behind Day with 15 points. Comer also hit three, three-pointers and drove the ball effectively to the rim throughout the game.

Senior Justin Ohlmansiek scored 12 of his 14-point total in the second half. Ohlmansiek hit two second-half three pointers and was a key player in his team's comeback effort.

Additional scorers for the varsity Eagles included: Will Neal seven, Cameron Gehl five, Caleb Simon four, and Brandon Baber two.

Coach Day noted that he felt his team's defense was the main area in which they still needed to improve. He said he encouraged the team to play against the Chargers like it was their last game, and he felt the players took that message to heart en route to their win.

Prior to the varsity match, the junior varsity Eagles also played a close game, defeating North Decatur 47-45. That win also placed the reserve Eagles at 3-2 on the young season.

Next, JCD travels to Hanover to take on the Southwestern Rebels on Friday, Dec. 20. Southwestern is currently 5-2 on their season with wins over Madison, Rock Creek, Shawe, Columbus East, and New Washington, and losses to Loogootee and Thurgood Marshall (Ohio).