Eagles repeat as Sectional 60 champions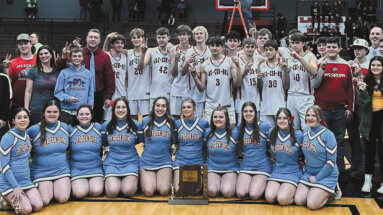 PHOTO COURTESY OF COURTNEY BOHMAN
It had been 55 years since the Jac-Cen-Del boys basketball program had posted back-to-back sectional championship seasons but the wait is no more after the Eagles were crowned Class A Sectional 60 champions on Saturday, beating Oldenburg Academy 50-40 at Edinburgh.

Jac-Cen-Del's last run of back-to-back titles was part of three-straight wins from 1967-1969. The Eagles defeated Sunman for the single-class sectional championship in 1967 en route to a regional runner-up finish then defeated South Ripley in 1968 to make it back-to-back crowns. The 68 year saw head coach David Porter's group win the regional, a predecessor to the historic 1969 season that saw the Osgood group reach the semi-state championship game against Indianapolis Washington.

Of course last year's Jac-Cen-Del postseason run ended in the Class A Final Four and head coach Clint Bohman took step one on Saturday of a repeat journey with a win over an Oldenburg team that refused to go away in hopes of an upset bid.
Connor Miles was a big part of Oldenburg's refusal and his eight points in the first quarter matched Devin Grieshop's eight points for Jac-Cen-Del in the frame as part of a 16-16 tie in the first eight minutes. The two would match each other again with four points apiece in the second period but neither would receive much supporting help however four points from Clark Dwenger for the Eagles proved the difference and the Eagles would lead 26-23 heading into halftime.

The lack of scoring continued to open the second half but despite the fact, the advantage continued to rise for Jac-Cen-Del who started padding its lead all the way until the end. Oldenburg was held to just four points in the third quarter and eight points by the Eagles allowed the margin to rise to seven points heading into the final frame. By the time the final horn sounded, the lead jumped again and Bohman's crew was well on their way to a sectional title.

Senior Matt Dickman, who scored six of Jac-Cen-Del's eight points in the third quarter, continued to stay hot and dropped six points in the final frame as offense took shape for both teams. Oldenburg got Miles back and going with five of the team's 13 points but the Eagles had seven players in the score column in the fourth period, totaling 15 points altogether to finish off the job.

The Eagles scrapped and clawed on back-to-back nights in order to repeat as champions and for the second night in a row it was a total team effort to make that possible.
Dickman led Jac-Cen-Del with 17 points which included 13 points in the second half while all but three of Grieshop's 15 points came in the first two quarters. Dwenger added seven points to the winning cause and Seth Drockelman put in five points in the first quarter and finished up with six points. Corbin White and Landon Kohlman rounded out Eagle scoring with three points and two points apiece.

Miles led all scorers with 20 points but Oldenburg's leading scorer only had six points in the second half. No other player for the Twisters scored more than six points total.
Jacob Hoff finished with six points while Jacob Stenger and Jacob Cornelius each totaled four points. Zach Hoff added three points, Henry Wanstrath had two points and Isaiah Waggoner had one point.

Oldenburg wraps up a rebuilding year with a 7-16 overall record but ends on a promising note with its sectional runner-up finish. Jacob Hoff will depart via graduation but the rest of the roster returns next season.

Jac-Cen-Del (17-9) heads back to Martinsville for the Class A Regional on Saturday for a one-game championship tilt. The Eagles will look to defend their regional crown at 4 p.m. against sixth-ranked Bethesda Christian (21-4).
The Eagles defeated Bethesda Christian 61-44 in the regional championship as part of the Jac-Cen-Del's 2009 run to the Class A state championship. This year's version of Bethesda defeated No. 13 Traders Point Christian 51-44 on Saturday in the Sectional 58 Championship.
CLASS A SECTIONAL 60 CHAMPIONSHIP
at Edinburgh
JAC-CEN-DEL 50,
OLDENBURG
ACADEMY 40
JCD – 16 10 8 16 – 50
OA – 16 7 4 13 – 40
JCD (17-9) – Matt Dickman 17, Devin Grieshop 15, Clark Dwenger 7, Seth Drockelman 6, Corbin White 3, Landon Kohlman 2, Brady Comer 0, Johnny Newhart 0.
OA (7-16) – Conner Miles 20, Jacob Hoff 6, Jacob Stenger 4, Jacob Cornelius 4, Zach Hoff 3, Henry Wanstrath 2, Isaiah Waggoner 1,
3-Point Goals – JCD 4 (Grieshop 4), OA 2 (Miles 1, Z. Hoff 1). Total Fouls – JCD 13, OA 16. Free Throws – JCD 12-21, OA 6-12. Fouled Out – OA: Stenger.