Eagles roll over
Rising Sun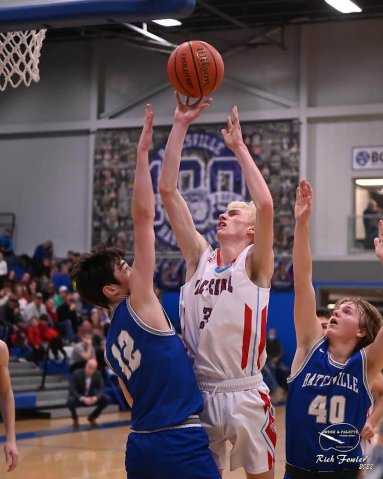 PHOTO BY RICH FOWLER
Jac-Cen-Del's offense was again of top quality as the Eagles surged quickly to remain unbeaten inside the Ohio River Valley Conference, blasting Rising Sun 82-48 at home on Tuesday night in boys basketball action.

The Eagles, who are now flying solo atop the ORVC standings, are 3-0 in league play with three conference games remaining on the year. Jac-Cen-Del has won three-straight games and four of its last five contests.

Although Rising Sun (7-11, 2-2 ORVC) was able to put up 16 points in the first frame, the Eagles were still eight points better as the offense fired on all cylinders to the tune of 24 points and the eight point advantage only blossomed from there. Jac-Cen-Del came back with a 22-9 second quarter run to go up 46-25 at intermission before a 24-12 spurt officially put the game into blowout status.

Jac-Cen-Del entered the fourth quarter having already scored 70 points and added 12 more points in the final frame, marking the third time this year the team has scored 80 points or more in a game.

Three players scored in double figures for the Osgood crew led by Caleb Simon and his 24 points. Wyatt Day and Ryan Wilson paced the backcourt for Jac-Cen-Del and scored 13 points apiece while Matt Dickman and Devin Greishop added nine points and eight points respectively. Nathan Hoffman had five points, Justin Swinney and Seth Drockelman each scored four points and Devin Groth rounded out the scoring with two points.

Jac-Cen-Del (13-5, 3-0 ORVC) can clinch at least a share of the conference title this weekend. The Eagles can move to 5-0 with a home win over Switzerland County on Friday night and a victory on the road against rival Milan on Saturday.