Eagles soar past Indians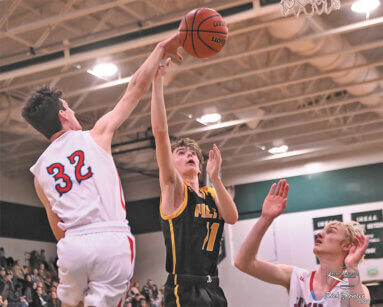 PHOTO by RICH FOWLER
Jac-Cen-Del boys basketball remains in contention for a second-straight Ohio River Valley Conference championship after a big second half propelled the Eagles to a 63-40 home win over rival Milan on Tuesday night.

The game between the two county and conference rivals was originally scheduled for Saturday night but was moved up to early this week due to the Jac-Cen-Del girls basketball team playing in the semi-state on Saturday at New Albany. The Eagle boys had already defeated Milan once this season, a 56-43 victory in the consolation game of the Ripley County Tournament.

With each squad on Tuesday needing a win to stay alive for the conference title, both teams played hungry early on, trading shots back and forth along the way. Milan found a variety of ways to score the basketball in the first quarter en route to a 14-10 lead but Jac-Cen-Del closed the first half strong, cooling down the Indians to the tune of six points while the Eagle offense took off using six points apiece in the frame by Seth Drockelman and Matt Dickman, overtaking the black and gold for a 26-20 advantage by halftime.

And the momentum Jac-Cen-Del started building in the second quarter only continued in the final 16 minutes. Drockelman drilled two 3-pointers as part of four made trifectas in the third quarter to spark a 22-7 run to get out to a commanding 21-point lead and the Eagles finished the game off with a 15-13 edge, putting five players in the score column in the final frame.

Milan had just four players score in a second half that featured just 20 points by the tribe. Only of the four scored more than four points.

Jac-Cen-Del canned 10 3-pointers, producing one of its bigger nights of the year from the perimeter. Drockelman's five makes from beyond-the-arc gave him 15 points, tying him for team-high honors with Dickman who put together a well-balanced effort from the inside. Johnny Newhart came alive for two 3-pointers and hit double figures with 10 points.

Corbin White came off the bench and scored seven points while Gavin Groth hit two 3-pointers for six points. Devin Grieshop also tossed in six points and the duo of Landon Kohlman and Brady Comer each had two points.

Ben Riehle scored 10 points in the second half and led Milan with 16 points. Micah Norman finished with seven points and Kohen Rinear was next in line with six points. Gabe Riehle and Killian Budd scored four points apiece while Brayden Rohrig rounded out Indian scoring at three points.

Milan (6-14, 3-2 ORVC) now gears up for Hauser on Friday night in a battle of Class 2A Sectional 45 foes while Jac-Cen-Del (12-9, 3-1 ORVC) plays a crucial ORVC game on Friday night at Switzerland County.

The Eagles remain in a three-way tie for first place in the conference with Southwestern (Hanover) and South Ripley.
TUESDAY'S BOYS BASKETBALL GAME
at Jac-Cen-Del
JAC-CEN-DEL 63,
MILAN 40
MILAN – 14 6 7 13 – 40
JCD – 10 16 22 15 – 63
MILAN (6-14, 3-2 ORVC) – Ben Riehle 16, Micah Norman 7, Kohen Rinear 6, Gabe Riehle 4, Killian Budd 4, Brayden Rohrig 3, Jonny Volk 0, Holden Acra 0, Ethan Pierce 0, Alex Wenger 0.
JCD (12-9, 3-1 ORVC) – Seth Drockelman 15, Matt Dickman 15, Johnny Newhart 10, Corbin White 7, Gavin Groth 6, Devin Grieshop 6, Landon Kohlman 2, Brady Comer 2, Caleb White 0, Clark Dwenger 0, DJ Brook 0.
3-Point Goals – M 2 (B. Riehle 1, Norman 1), JCD 10 (Drockelman 5, Groth 2, Newhart 2, Grieshop 1). Total Fouls – M 9, JCD 14. Free Throws – M 10-12, JCD 7-10. Fouled Out – None.