Eagles soar past Raiders in Turkey Shootout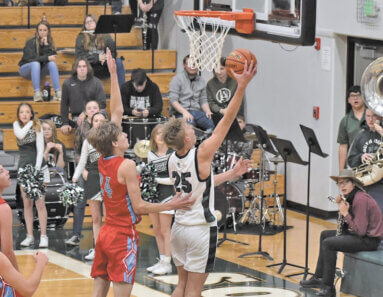 PHOTO BY DANIELLE MCGEE
Jac-Cen-Del and South Ripley entered the 2022-2023 season looking for new stars on its respective rosters to emerge and a pair on each side flashed brilliance on Tuesday night as the Eagles held on for a 65-60 win over the Raiders in the annual Turkey Shootout.

The victory is the second-straight for Jac-Cen-Del in the Turkey Shootout and the fourth season-opening win over the Raiders in the last five seasons. South Ripley's new head man, Seve Beach, becomes the third-straight head coach in program history to lose his first game on the sideline. Travis Wrightsman (2008) and Tyler Theising (2018) also fell in their first game to Jac-Cen-Del.

It was obvious in the first quarter that a pair of players on each side would do battle as Jac-Cen-Del's Devin Grieshop and Seth Drockelman matched up against South Ripley's sophomore duo of Cole Henry and Blaine Ward. Henry, Grieshop and Drockelan each scored eight points in the opening frame while Ward canned two 3-pointers for six points but the Eagle pair got help from a trifecta apiece off shots by Gavin Groth and Brady Comer, getting out to a 22-14 lead. Nobody else from South Ripley scored.

Such was the case again in the second quarter minus a free throw from Gavin Binion and a bucket from Logan Bradley. Ward and Henry combined for nine points but on the other side the Eagles had five players score two points or more as the margin stayed at eight points through halftime. By the end of the third quarter, that pattern only continued and Jac-Cen-Del still led by three possessions, leading 52-45 heading into the final period.

Neither team was strong on offense in the final eight minutes as free throws mostly highlighted the fourth quarter and eventually paved the way for an Eagle five-point victory. Each squad had withstood third quarter punches which may have fatigued both. Grieshop had lifted Jac-Cen-Del with nine points in the third frame while Henry boosted South Ripley with three 3-pointers en route to 13 points in the third, providing fans with a few second half highlights as the contest started to fade away.

South Ripley's duo of Henry and Ward scored more than that combined of Grieshop and Drockelman but Jac-Cen-Del had more consistent help and perhaps that proved to be the single most important key to victory.

Grieshop dazzled with a career-high 27 points including 15 points in the second half and Drockelman added 13 points with 10 of those coming in Jac-Cen-Del's strong first half. Support came from seven points apiece out of Comer and Matt Dickman while Landon Kohlman scored four points. Groth chipped in his three points and the duo of Caleb White and Clark Dwenger had two points apiece.

Henry had a career night for the Raiders, scoring a career-high 30 points which included 17 points in the second half. Ward joined him in double figures with 16 points that was aided with a pair of three-pointers and eight made free throws. Only three other players scored for South Ripley. Binion put in six points, Bradley had five points and Chancie Volz scored three points.

Both teams stand at 1-1 after last Saturday night's contests. Jac-Cen-Del is home on Friday night against South Dearborn and then visits Rising Sun on Saturday for an Ohio River Valley Conference game. South Ripley is at North Decatur on Saturday.