Eagles soar to sectional
championship!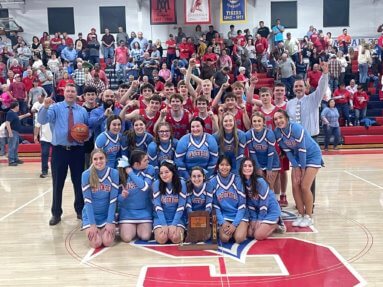 PHOTO COURTESY OF JCD SPORTS
Class A No. 10 Jac-Cen-Del has waited seven long years but head coach Clint Bohman and the Eagles can say they are sectional champions once again after defeating Hauser 61-46 in the Class A Sectional 60 title game at Southwestern (Shelby) on Saturday night.

For Coach Bohman, it is his first sectional crown as a head coach in just his second year at the helm of the Eagles. Jac-Cen-Del, who had not won a sectional since beating Rising Sun in 2015, now has a total of 14 sectional championships in program history with seven of those coming since 2000.

Saturday's championship game was close through three quarters but ultimately Jac-Cen-Del used a slew of players to push out in front with a commanding lead and wrap up the game. The Eagles started the contest strong and led 20-8 but the next 16 minutes saw Hauser make a tremendous push and threaten to pull off a major upset.

The Jets got their offense going in the second quarter to the tune of a 17-6 run to trail only 26-25 at halftime and the one possession deficit stayed through the end of the third quarter as Jac-Cen-Del continued to barely hang on and lead by a 42-40 score. The fourth frame though was all Eagles and finally the offense found a spark that had been missing since the opening period. Jac-Cen-Del's fortunes increased as the final eight minutes progressed with a two-point advantage shooting up to 50-42 by the midway mark of the stanza and what followed was an 11-4 run that closed out the game in rather dominant fashion.

It took the entire flock to get the Eagles a sectional crown and four players reached double figure scoring which included Devin Greishop going off for a season-high 18 points. Wyatt Day and Caleb Simon followed with 13 points and 12 points respectively while Matt Dickman joined in on the fun with 10 points. Justin Swinney was close behind at eight points.
Hauser (11-14) put three players in double figures. Koby Johnson finished with 15 points, Bryce Bates scored 13 points and Eli Miller added 11 points.
The Eagles earned a bid to the sectional finals after defeating Waldron 74-60 on Friday night in the semifinal round.

Jac-Cen-Del was never threatened by the Mohawks throughout the entire contest as the Eagles quickly built up a double-digit lead going into halftime. A 34-24 margin shot up to 58-38 by the end of the third quarter and Jac-Cen-Del's night finished with a double-digit lead still running strong as 16 fourth quarter points put Waldron away for good.
The same quartet of Eagles who scored in double figures on Saturday also hit that mark in the semifinals. Against Waldron, it was Day leading with 20 points while Simon scored 17 points. Dickman and Greishop finished with 13 points and 12 points respectively with Swinney adding eight points. Scoring was rounded out by Ryan Wilson and Nathan Hoffman at two points apiece.

Jac-Cen-Del's record currently sits at 20-5, the first 20-plus win season for the program since the 2008-2009 campaign that resulted in a Class A State Championship. The Eagles head to the Class A Regional at Martinsville this Saturday and face off against Class A No. 8 Bloomfield (20-6) in a 12 p.m. semifinal game.

The first semifinal game pits Class A No. 9 Indianapolis Lutheran (18-5) against Class A No. 14 Indianapolis Metropolitan (13-12).