Eagles tame Bulldogs in 2OT classic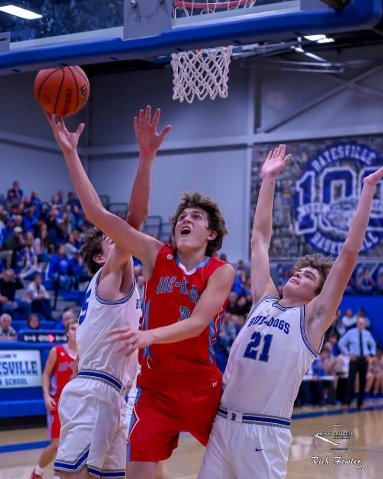 PHOTO BY RICH FOWLER
Jac-Cen-Del and Batesville have played some instant classics on the hardwood throughout their county rivalry series and the two chalked up another classic on Saturday as the Eagles beat the Bulldogs 82-80 in double overtime at the Dog Pound.

The win is the second-straight for Jac-Cen-Del over Batesville. It is just the second season-opening loss for the Bulldogs in the last six seasons.

With a game already under its belt, Jac-Cen-Del looked comfortable early and led throughout the first three quarters. The Eagles hit five 3-pointers -two by Ryan Wilson- in the first frame to go up 20-14 before Batesville was able to get inside the arc in the second quarter to trail just 36-32 at halftime. Jac-Cen-Del's two-possession lead stayed intact in the third quarter but Batesville's uphill climb would eventually pay off late.

As Jac-Cen-Del went ice cold from the field, Batesville's offense ramped up in the fourth period behind 18 points in the frame -eight points by freshman Cade Kaiser- and the Bulldogs forced overtime with a bucket in the final seconds and repeated that same feat in the first extra stanza to force double overtime.

Batesville scored seven points in double overtime but to no avail. Wyatt Day, a senior, lifted Jac-Cen-Del with nine points in that same four minutes to get a hard-fought win. Day scored 11 points in the two overtimes combined, a much needed boost considering the Eagles' troubles from the field.

Gutting a win out using a 13-of-18 clip from the free throw line between the fourth quarter and two overtimes, Jac-Cen-Del connected on just six field goals in the final 16 minutes of the game. The Eagles were 25-of-32 from the free throw line for the game while Batesville attempted just 15 free throws and connected on only seven.

Day was one of three Jac-Cen-Del players in double figures as he led all scorers with 29 points including 19 points in the second half. Caleb Simon added 19 points -13 points in the first half- while Wilson hit four 3-pointers en route to 14 points.

Cody Mohr scored all of his team-high 20 points in the second half for Batesville while Thomas Raver scored 19 points -12 points in the first half- and Kaiser scored 14 points in the second half for a total of 17 points. Cole Werner chipped in 14 points, all in the first half.

Jac-Cen-Del (2-0) heads to South Dearborn (2-0) on Friday before visiting South Decatur (1-1) on Saturday night. Batesville (0-1) visits bitter rival Greensburg (1-0) on Friday in an Eastern Indiana Athletic Conference game.