Eagles upset Rebs on Friday, defeat Cougars on Saturday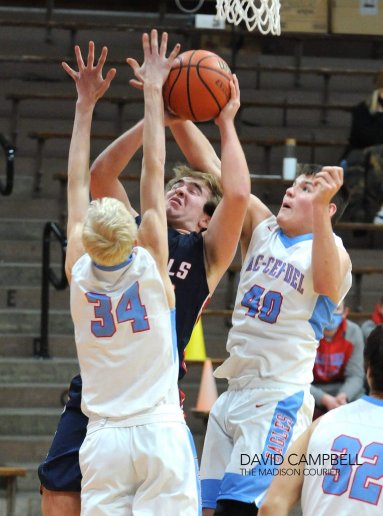 Photo by David Campbell
Jac-Cen-Del boys basketball knocked off an Ohio River Valley Conference foe on Friday night in a big upset win and followed with a decisive win on Saturday as the Eagles picked up a pair of victories at home.

The Eagles trailed by 13 points at halftime on Friday night but stormed back in the second half, defeating previously unbeaten Class 2A No. 9 Southwestern (Hanover) 72-67 in an ORVC game.

Southwestern (4-1) led by two through the first quarter but a 21-10 run in the second quarter put the margin in double figures by halftime. Jac-Cen-Del responded with a 21-10 run of its own in the third quarter to trim the deficit to 46-44. The Eagles exploded for 28 points in the final frame, erasing the Rebels' lead for good and holding on for a comeback win.

Wyatt Day led all scorers with 20 points and paced Jac-Cen-Del's offense throughout the entire game while Cameron Gehl scored 14 points in the second half -eight points in the fourth quarter- en route to 16 points. Matt Dickman added 14 points with 11 coming in the second half.

Southwestern put all five starters in double figures but the Eagles limited the Rebels to no bench points in the game. Austin Kramer led with 16 points while Foster Mefford had 15 points. Billy Eccles and Zach Cole each had 10 points and Matthew Williams chipped in 10 points.

Jac-Cen-Del followed with a 27-point outburst in the fourth quarter on Saturday night, to come away with an 84-66 win at home against Trinity Lutheran. The Eagles trailed 20-17 at the first stop but did enough on offense in the second quarter to grab a three-point lead at intermission.

The Eagles went on a 20-12 third quarter run before scoring the 27 points in the final frame for the win.

Caleb Simon was held to just seven points on Friday but got back in rhythm on Saturday, leading Jac-Cen-Del with 26 points while Day scored 22 points. Gehl was the third double figure scorer for the Eagles, adding 18 points.

Jac-Cen-Del (5-1) opens the Edinburgh Tournament on Monday, December 28, against Class 2A No. 12 South Decatur.