Early hole costs Batesville softball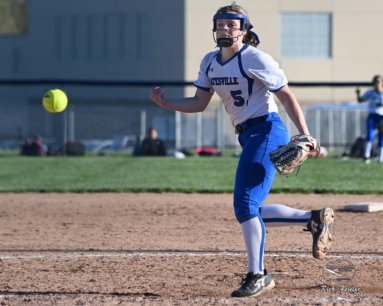 RICH FOWLER PHOTO
Batesville fell behind in the second inning and never recovered in 13-3 loss at home to Class 4A No. 10 Shelbyville in softball action on Friday evening.
Shelbyville went for eight runs in the top of the second inning led 9-0 after three innings before Batesville scored a run apiece in the fourth and fifth innings to trail 9-2. The Lady Golden Bears were able to increase the advantage again, this time putting up two runs in each the sixth and seventh frames before the Lady Bulldogs scored their final run in the bottom of the seventh.
Paige Oldham hit a double and a home run for Batesville, going 2-for-4 with two RBIs and a run scored. Kaylin Hinners went 3-for-4 with a run and Renee Lecher was 1-for-2 with a run.
Shelbyville (16-2) hit four home runs including two by Karissa Hamilton who went 4-for-5 with five RBIs and three runs scored. Madison Campton was 3-for-4 with three RBIs and a run.
Oldham was hit with the pitching loss, surrendering 13 runs -12 earned- on 15 hits with three strikeouts and a walk. Hailey Pogue received the win for Shelbyville, pitching five innings and allowing an earned run on five hits with two strikeouts.
Batesville (6-6) hosted South Dearborn on Monday night in an Eastern Indiana Ahtletic Conference game and visits Franklin County tonight in an EIAC affair.